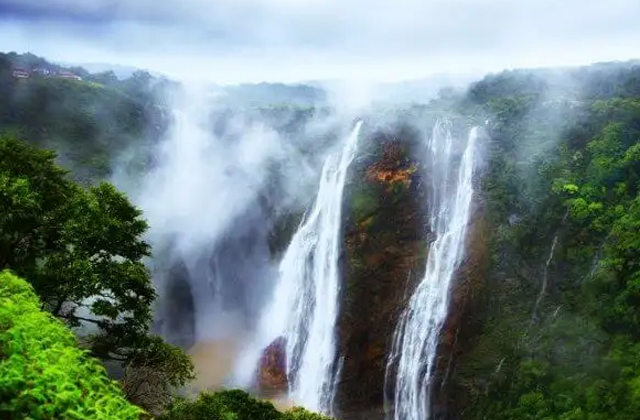 The monsoon season in India, typically from June to September, can be a wonderful time to explore nearby destinations with lush greenery and enjoy the refreshing rain showers. If you're looking for India's nearest tourist places during this season, here are some recommendations:
Sri Lanka:
Just a short flight from India, Sri Lanka offers a fantastic monsoon getaway. Explore the cultural sites of Sigiriya, visit the tea plantations in Nuwara Eliya, relax on the beautiful beaches of Bentota, or go wildlife spotting in Yala National Park. The southwest coast of Sri Lanka experiences its dry season during India's monsoon, making it an ideal destination.
Bhutan:
Nestled in the Himalayas, Bhutan is a stunning destination with breathtaking landscapes and a rich cultural heritage. The monsoon season brings lush greenery to the valleys, making it a great time to explore the capital city of Thimphu, visit the iconic Tiger's Nest monastery in Paro, and immerse yourself in Bhutanese culture.
Nepal:
With its diverse landscapes and incredible mountain views, Nepal is a paradise for nature and adventure enthusiasts. During the monsoon season, the rain revitalizes the lush valleys and waterfalls. Head to Pokhara to enjoy the serene Phewa Lake and panoramic mountain vistas or explore the cultural treasures of Kathmandu and its surrounding areas.
Myanmar (Burma):
Myanmar uniquely blends beautiful places, ancient temples, and rich history. The monsoon season brings cooler temperatures and occasional rain showers, making it a pleasant time to visit. Discover the awe-inspiring temples of Bagan, explore the floating gardens of Inle Lake, or soak up the colonial charm of Yangon.
Maldives:
The Maldives, renowned for its pristine beaches and crystal-clear waters, can be a great monsoon escape. While it experiences some rainfall during this season, it often comes in short bursts, allowing you to enjoy the tropical paradise without the crowds. Indulge in water sports, relax at luxury resorts, and snorkel among vibrant coral reefs.
Thailand (Andaman Coast):
While the Andaman Coast of Thailand experiences its monsoon season during India's summer months, certain areas like Krabi and Phuket still offer favorable weather and are worth considering. You may encounter occasional rain showers but can still enjoy stunning beaches, go island hopping, and explore the lush rainforests.
Before planning your trip, remember to check the weather conditions and any travel sites. While the monsoon season can be a beautiful time to travel, it's important to be prepared for occasional rain and plan accordingly.