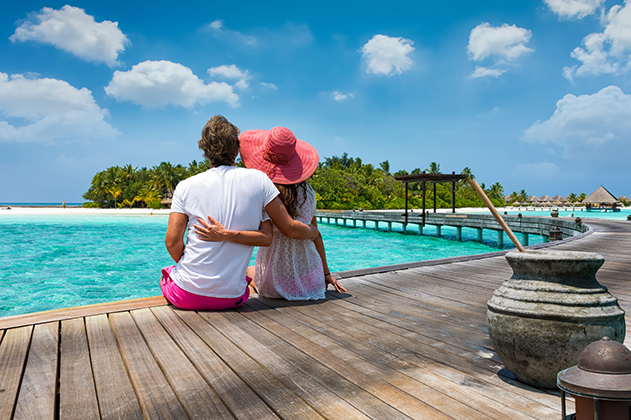 Couples frequently select to stay at the renowned and top resorts in Bali because they know that a good lodging option can make one's honeymoon experience tremendous or just the opposite. For your consideration and a stay while on your Bali honeymoon, we have compiled some of the best locations to stay in Bali in this blog. Look at this!
Hard Rock Hotel, Kabupaten Badung
There is no need to introduce this hotel because its name tells it all. One of Bali's most dedicated and top hotels is the Hard Rock Hotel, constructed around a rock music motif. The resort offers well-appointed rooms, suites, private pools, a sizable recording studio, and a platform for live band performances in the middle of the pool.
What's Special- The Rock & Roll Theme and Live Band Performances.
Price- Starts from INR 6000.
Sun Island Suites, Uluwatu
One of Bali's top honeymoon resorts is Sun Island Suites, which provides romantic views of the Indian Ocean. The private outdoor pool in each suite allows the couple to experience love, romance, and serenity at its finest. It strikes the ideal balance between the lush greens and the calming blues.
What's Special- Sea-facing Villas With Private Outdoor Pools.
Price- Starts from INR 12500.
Jendela Di Bali, Ubud
Elegance and passion go hand in hand with Jendela Di Bali. The handcrafted villas transport you through Bali's history and culture while tucked away in opulent gardens. For those who value authenticity and tranquility, staying at the White Elephant is highly suggested. It is the ideal fusion of artistic architecture and Balinese culture.
What's Special- The traditional Balinese and handcrafted villa of White Elephant.
Price- Starts from INR 15000.
COMO Uma, Ubud
Uma Ubud by COMO Hotels will spoil you with its luxurious amenities, surrounded by lush tropical gardens and showcasing modern architecture at its finest. One of the best locations to remain in Bali and an excellent option for a honeymoon, do not leave this haven without indulging in some traditional Asian spa treatments.
What's Special- World-class cuisines, tropical gardens, renowned Asian spa treatment, and infinity pools.
Price- Starts from INR 18500.
Amarterra Villas Bali, Nusa Dua
All it takes is one glance to fall in love with the seductive surroundings of Amarterra Villas Bali. Its convenient access to the beach and prime position in Nusa Dua allow the couple to take in the surreal views of the ocean and sunset. Amarterra Villas is undoubtedly one of the finest locations to stay in Bali for a honeymoon, with its private pool, rattan furnishings, modern architecture, and artistic touch.
What's Special- Subak style-based private villas wrapped by tropical fruit trees and flowers.
Price- Starts from INR 22000.
Final Words
Couples can't help but fall in love with Bali because of the island's atmosphere and the allure of nature. Therefore, whichever option you choose, these romantic resorts in Bali will make for a memorable honeymoon!