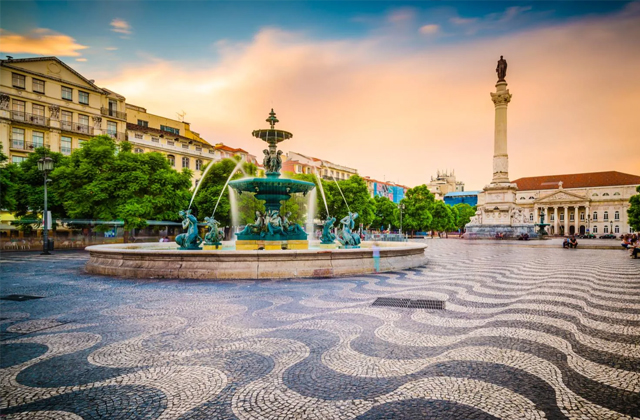 Portugal, a country blessed with a rich history, diverse landscapes, and a captivating culture, offers an abundance of delightful holiday destinations for every type of traveler. From vibrant cities to picturesque coastal towns and serene countryside retreats, Portugal has something to enchant everyone. In this blog, we will explore the nine best portugal holiday destinations and the ideal time to visit each one, ensuring you have an unforgettable experience.
Lisbon: The Enchanting Capital
Portugal's vibrant capital, Lisbon, is a charismatic city that captures the hearts of all who visit. Its architecture, culture, and cuisine reflect the city's unique blend of ancient history and contemporary flair. Whether you're exploring the narrow cobbled streets of Alfama or taking in the panoramic views from São Jorge Castle, Lisbon promises an enriching experience.
Best Time to Visit Lisbon
The best time is spring (March to May) and autumn (September to November). The weather is mild during these months, making it ideal for strolls through the city's neighborhoods and along the riverfront.
Porto: A City of Wine and Charm
Located along the banks of the Douro River, Porto is renowned for its charming old town, historic bridges, and, of course, its namesake port wine. Its majestic buildings and lively waterfront reflect the city's rich maritime heritage. Delight in wine tastings, boat cruises, and walks across the iconic Dom Luís I Bridge.
Best Time to Visit Porto
The best time is in the late spring (May to June) and early autumn (September to October). The weather during these months is pleasant, and you can enjoy outdoor activities without the sweltering summer heat.
Algarve: A Sun-Soaked Beach Paradise
Famous for its stunning beaches, dramatic cliffs, and picturesque fishing villages, the Algarve region is a sun-seeker paradise. It's crystal-clear waters and golden sandy shores make it the perfect destination for beach lovers and water sports enthusiasts.
Best Time to Visit Algarve
The best time is late spring (May to June) and early autumn (September to October). During these months, the temperatures are warm, and the beaches are less crowded, allowing you to enjoy the region's natural beauty fully.
Madeira: The Enchanted Garden
Known as the "Pearl of the Atlantic," Madeira is an island paradise that offers a unique combination of rugged mountains, verdant landscapes, and picturesque gardens. Nature lovers and hikers will be in awe of its lush forests and flower-filled gardens.
Best Time to Visit Madeira
The best time is spring and early summer (April to June) when the island is in full bloom and the temperatures are mild. This time of the year is perfect for exploring the island's natural wonders and engaging in outdoor activities.
Azores: An Adventure in Nature
For those who love the outdoors and are looking for adventure, the Azores Islands amid the Atlantic Ocean is the perfect destination. The Azores provide a distinctive and all-encompassing experience with breathtaking scenery, volcanic craters, and thermal hot springs.
Best Time to Visit Azores
The best time is late spring (May to June) and early autumn (September to October). The weather is mild, making it ideal for outdoor activities and exploration.
Sintra: A Fairytale Getaway
A short drive from Lisbon, Sintra is a fairytale-like town surrounded by lush forests filled with enchanting palaces and castles. The town's colorful architecture and mystical aura make it a must-visit destination.
Best Time to Visit Sintra
Sintra is best visited in the spring and autumn when the weather is pleasant for sightseeing. Avoid going during the busiest summer months when there may be a lot of tourists.
Évora: A Journey through Time
In the Alentejo region, Évora is a captivating city with a well-preserved medieval center and Roman ruins. Its historical significance and cultural heritage have earned it a spot on the UNESCO World Heritage list.
Best Time to Visit Évora
The best time is spring and autumn to avoid the extreme summer heat. Explore the city's landmarks and experience the local culture without the discomfort of high temperatures.
Douro Valley: A Wine Lover's Paradise
The Douro Valley is a picturesque region known for its terraced vineyards, charming villages, and delightful river cruises. It's a haven for wine enthusiasts and those seeking a tranquil escape.
Best Time to Visit Douro Valley
The best time is during the grape harvest season in late summer (September to October). The vineyards are bustling with activity, and you can witness the winemaking process firsthand while enjoying the pleasant weather.
Conclusion
With its diverse landscapes, rich history, and warm hospitality, Portugal offers an array of exciting holiday destinations for every type of traveler. Whether you're exploring the vibrant cities of Lisbon and Porto, relaxing on the beaches of the Algarve, or immersing yourself in nature's beauty in Madeira and the Azores, each destination promises a unique and unforgettable experience. Plan your visit according to the suggested times to make the most of your journey and create cherished memories in this captivating country.