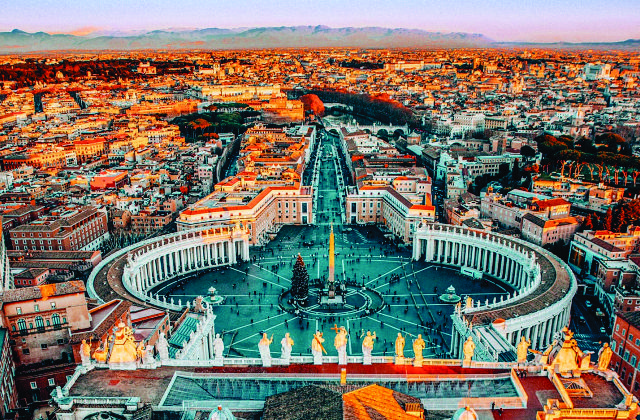 Rome, the Eternal City, is a place rich in history, culture, and timeless beauty. While iconic landmarks like the Colosseum and Vatican City are must-see attractions, the city also offers visitors a range of exciting and new experiences. In this guide, we'll explore seven of the best things to do in Rome, allowing you to discover a fresh perspective on this ancient city and create unforgettable memories.
Explore the Centrale Montemartini:
Centrale Montemartini is a unique museum located in a former power plant. It showcases a captivating juxtaposition of ancient Roman sculptures alongside industrial machinery. This innovative exhibition creates a fascinating dialogue between ancient and modern, offering visitors a fresh and unexpected experience in Rome's art scene.
Visit the Mercato Centrale Roma:
Located within the historic Termini Station, the Mercato Centrale Roma is a vibrant food market that is one the best rome what to see things that bring together the best Italian cuisine under one roof. From traditional pasta dishes to gourmet pizza and gelato, you can indulge in a culinary adventure while immersing yourself in the lively atmosphere of this foodie paradise.
Discover the MAXXI Museum:
MAXXI, the National Museum of 21st Century Arts, is a cutting-edge architectural masterpiece designed by Zaha Hadid. This contemporary art museum houses a diverse collection of art, architecture, and design, showcasing the works of renowned Italian and international artists. It's a haven for art enthusiasts seeking a modern and thought-provoking experience in Rome.
Wander through the Quartiere Coppedè:
The Quartiere Coppedè is a hidden gem tucked away from the usual tourist routes. This whimsical neighborhood is known for its eclectic and fairy-tale-like architecture, featuring intricate details, decorative elements, and unexpected designs. Strolling through its streets feels like stepping into a different world, making it a photographer's paradise and a unique off-the-beaten-path experience.
Explore the Cinecittà Studios:
Movie buffs and fans of Italian cinema should not miss a visit to the Cinecittà Studios. This legendary film studio has been the setting for numerous iconic films, including Fellini's masterpieces. You can take a guided tour to explore famous movie sets, props, and behind-the-scenes secrets, offering a fascinating glimpse into the world of Italian filmmaking.
Enjoy the Appia Antica Park:
Escape the bustling city and venture to Appia Antica Park, a vast green oasis that preserves the ancient Appian Way. This historic road has archaeological ruins, including ancient tombs, catacombs, and Roman ruins. You can rent a bike or take a leisurely walk along this scenic route, simultaneously immersing yourself in history and nature.
Marvel at the Pyramid of Cestius:
The Pyramid of Cestius is an intriguing and unexpected sight in Rome. Dating back to 12 BC, this well-preserved pyramid is a testament to the city's ancient past. It's a fascinating structure to admire and offers a unique photo opportunity, particularly as it contrasts with the surrounding Roman architecture.
Conclusion
While Rome is known for its timeless treasures, the city also offers a range of new and exciting experiences for visitors to enjoy. From exploring unique museums and vibrant food markets to discovering hidden neighborhoods and cinematic studios, these seven activities provide a fresh perspective on the Eternal City. By incorporating these new attractions into your itinerary, you'll have the opportunity to delve deeper into Rome's rich culture and create memorable moments that blend the old with the new.