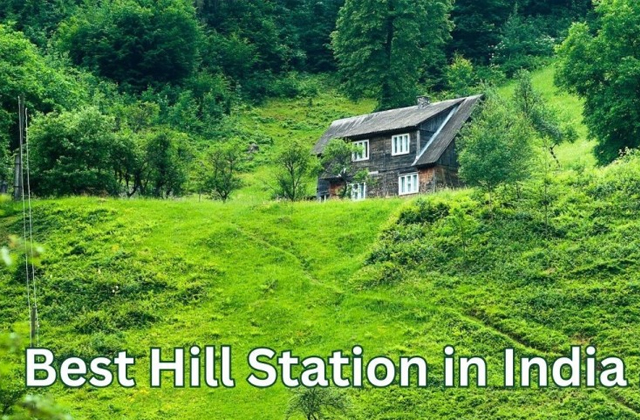 India's picturesque hill stations have always been a magnet for travelers seeking respite from the hustle and bustle of city life. These tranquil retreats offer breathtaking natural beauty and boast of cleanliness and serenity that make them perfect holiday destinations. In this blog, we present the top 10 hill stations in india that you must visit in 2023 for an unforgettable experience of rejuvenation and tranquility.
Munnar, Kerala
Nestled amidst the lush Western Ghats in Kerala, Munnar is a captivating hill station in india known for its misty mountains, tea gardens, and serene lakes. The clean and unpolluted air of Munnar makes it an ideal destination for nature lovers and those seeking solace in the lap of nature. Whether a stroll through the tea estates or visiting the pristine Eravikulam National Park, Munnar offers an enchanting experience for all.
Coorg, Karnataka
Also known as the "Scotland of India," Coorg is a pristine hill station in Karnataka renowned for its coffee plantations, verdant landscapes, and cascading waterfalls. Coorg's well-maintained surroundings and cleanliness make it a paradise for trekkers, adventure enthusiasts, and anyone looking to unwind amidst nature's bounty.
Manali, Himachal Pradesh
Manali, located in the lap of the mighty Himalayas, is a popular hill station that always impresses visitors with its breathtaking beauty. The town takes pride in keeping its streets and tourist spots clean. It offers a perfect blend of adventure activities, cultural experiences, and serene landscapes, making it a must-visit destination in 2023.
Darjeeling, West Bengal
Famous for its aromatic tea gardens and the majestic view of Mount Kanchenjunga, Darjeeling is a charming hill station that captivates travelers with its cleanliness and awe-inspiring scenery. Visitors are taken on a picturesque journey through verdant valleys and foggy hills by the toy train ride, which is a UNESCO World Heritage Site, providing them with priceless memories.
Ooty, Tamil Nadu
Ooty is a picturesque hill station in Tamil Nadu, surrounded by lush gardens and blue mountains. Known for its immaculate landscapes, well-maintained gardens, and beautiful lakes, Ooty offers a tranquil escape for travelers seeking a peaceful retreat in the lap of nature.
Shimla, Himachal Pradesh
One of India's most popular hill stations, Shimla, the "Queen of Hills," boasts cleanliness and well-organized infrastructure. The Mall Road, Ridge, and Scandal Point are some of the well-maintained spots that add to the charm of this beautiful hill station. In 2023, shimla hill station will be a favorite destination for families, honeymooners, and solo travelers.
Gangtok, Sikkim
Tucked away in northeastern India, Gangtok is a pristine hill station surrounded by the majestic Himalayas. Its cleanliness, well-kept streets, and eco-friendly practices have earned it the "Cleanest Tourist Destination" title in India. The monasteries, serene lakes, and breathtaking viewpoints make Gangtok an unforgettable experience for travelers.
Mount Abu, Rajasthan
While Rajasthan is known for its deserts, Mount Abu is an oasis of greenery and tranquility. The hill station's clean and well-maintained surroundings and the pleasant climate make it an ideal summer getaway in 2023. The Nakki Lake and Dilwara Temples are among the top attractions that enthrall visitors.
Nainital, Uttarakhand
Nainital's shimmering Naini Lake and the surrounding hills make it a mesmerizing hill station, providing a much-needed break from city pollution. The town's cleanliness and well-organized infrastructure, combined with various recreational activities, ensure a delightful experience for travelers in 2023.
Shillong, Meghalaya
Known as the "Scotland of the East," Shillong is a serene hill station with rolling hills, gushing waterfalls, and lush greenery. The locals' emphasis on cleanliness and eco-friendly practices has earned Shillong the title "India's Cleanest Hill Station." The pleasant climate and warm hospitality make it an inviting destination for travelers looking for an offbeat yet pristine hill station experience.
Conclusion
As we embark on new journeys in 2023, India's cleanest hill stations beckon with their beauty and tranquility. From Munnar's misty hills to Nainital's serene lakes, each hill station on this list offers a unique and pristine experience. So, plan your trips, immerse yourself in these clean havens' untouched beauty, and let them rejuvenate your mind and soul. Remember, traveling responsibly and respecting the environment will help preserve the charm of these hill stations for generations to come.