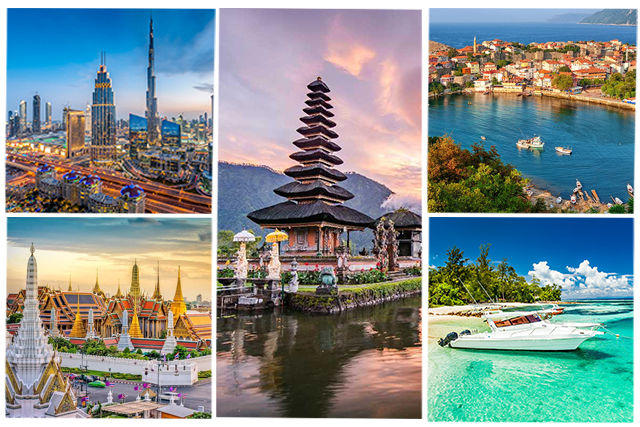 Have a passport, but are you on a tight budget? Visit these lovely overseas locations, which you can visit on a budget of no more than ₹50,000! These stunning locations will undoubtedly help you build the best memories, whether traveling alone or with loved ones.
Choose a location for your upcoming foreign vacation as you scroll down. You could save some money and reduce the trip's overall cost if you carefully plan and book your holiday in advance. Here is a list of five nations where you can travel for less than Rs. 50,000. Yes, it also includes your flight tickets.
Seychelles
One of the world's top island vacation spots is Seychelles. This tiny African nation is richly endowed with the splendor of nature. Seychelles has it all, whether you're seeking a tranquil getaway, exhilarating water activities, or lively nightlife. International beach vacations can be pricey, but Seychelles offers a more affordable option.
Return Air Ticket: Rs. 21,000 – 23,000
Visa: Visa on arrival for Indians
Accommodation: Rs. 3,500/night onwards 
2. UAE
Indians frequently travel to the United Arab Emirates because of their family, proximity to India, and of course! The main reason Indians visit the UAE is to see Dubai. The question is, where is Dubai, and why is it getting so much attention?
For obvious reasons, Dubai is the most lively city in the United Arab Emirates and the one we find most alluring. There are large malls, world-class buildings like the Burj Khalifa, Burj Al-Arab, and Atlantis hotel, and enjoyable activities like desert safaris and extreme sports like skydiving. There are multiple activities to do in Dubai. Since it is online, obtaining a UAE or Dubai visa is also fairly easy.
There is much more to the UAE than just Dubai, including adventurous activities, amusement parks in Abu Dhabi, deserts and markets in Sharjah, and more.
Return Air Ticket: Rs. 13,000 – Rs. 15,000
Visa: Apply online before traveling | Rs. 6,200 for 14 days Visa
Accommodation: Rs. 1,600/night onwards
3. Thailand
For the past three years, Indians have traveled to Thailand the most. Thailand is well-known for its nightlife, culture, beaches, and, of course, Thai massage. But if you venture outside of Bangkok, Pattaya, and Phuket, there are many truly great spots to discover in Thailand. Visit Ayutthaya and look around the Siam empire's ruins. Experience the bridge over the River Kwai by traveling to Kanchanaburi. Or just visit Sukhothai, the Siam empire's original capital.
Return Air Ticket: Rs. 16,500 – 20,000
Visa: Visa on arrival for Indians | 1,000 Thai Baht 
Accommodation: Rs. 400/night onwards 
4. Indonesia
Indonesia is unquestionably on the list of destinations for those who are considering traveling abroad. Indonesia is one of the must-visit places on earth due to its diversified scenery and ecosystem. Indonesia has every imaginable environment, from the bustling city of Jakarta to the pristine beaches of Bali, the active volcano of Lombok, and the dragons of Komodo.
Return Air Ticket: Rs. 18,000 – 20,000
Visa: Visa on arrival for Indians – Rs. 2700
Accommodation: Rs. 350/night onwards
5. Turkey
Is it surprising that Turkey is the top destination on this list? It can be done for less than Rs. 50,000. You are not a true traveler if Istanbul is not on your bucket list. Turkey serves as the link between Asia and Europe. Turkey is full of surprises, from the bustling city life of Istanbul to its historical significance, from the stunning beaches of Antalya to the breathtaking scenery of Cappadoccia, from the geothermal activity in Pamukkale to the Rumi connection in Konya.
Return Air Ticket: Rs. 23,000 – 25,000 
Visa: Apply before going, Rs. 3,900
Accommodation: Rs. 450/night onwards