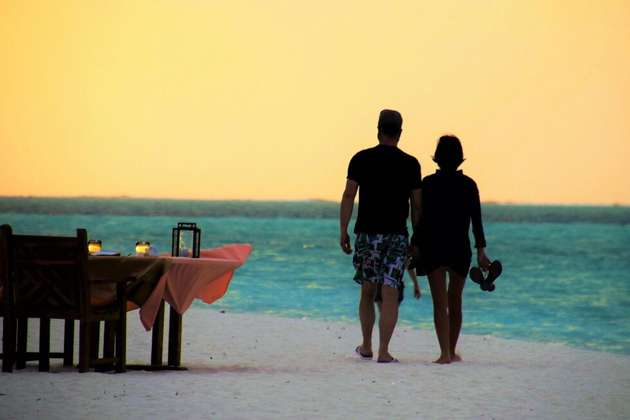 Every couple anticipates their honeymoon as the antidote to the post-wedding blues. Although there are plenty of things to do on a honeymoon schedule, the beauty of creating a unique honeymoon resides in its utmost simplicity.
One thing that frequently confounds newlyweds is what to do on their honeymoon. We have identified the top five romantic activities to do on a honeymoon. Look over this list and decide which of the top honeymoon activities you and your partner should partake in.
5 Romantic Things To Do On Honeymoon
The list below may prove useful if you need help organizing your honeymoon. Look over the list of things to do on your honeymoon to make planning your schedule easier.
Start With A Romantic Sunrise
As old as it may sound, sharing a sunrise with your spouse is a great way to make your honeymoon memorable. You'll be able to start your voyage off on a positive note if you can sense the romance in the air and let the sun's first rays brighten your smile.
Places To Visit: Cape Mulinu'u in Samoa, Pacaya volcano in Guatemala, Zimbabwe, Cambodia, and Skaros in Santorini
Hit The Road
A romantic road trip allows you to live life as it unfolds and appreciate the beauty of the unforeseen while on your honeymoon. So get into your car, pack everything you'll need for your honeymoon, and let love lead the way.
Places To Visit: Explore India on the Manali to Leh road trip, drive along Tasmania in Australia, and explore the western coast of America from Los Angeles to the Grand Canyon
Get Adventurous Throughout The Day
You might choose to encounter daring activities to do on your honeymoon if you want to follow the rising trend of doing something different and distinctive on your honeymoon. There is no activity that one cannot try to make their honeymoon special and memorable, from sky diving to paragliding.
Places To Visit: Havelock Island in Andaman, Kauai in Hawaii, Gurabo in Puerto Rico, and Victoria Falls in Zambia
Interact With Nature
Many couples are drawn to the natural world's beauty and wildlife because of how well they get along when they have a deep affection for animals. Animals today have a more human quality. If you and your partner love animals, spending time together outdoors and with wildlife can strengthen your relationship and pave the way for beautiful times.
Places To Visit: Kenya in East Africa, Ranthambore National Park in India, Kwandwe in South Africa, and Pantanal in Brazil
Choose To Cruise With Your Partner
All the love you could need is poured down from the sky when it opens its closet, and it wonderfully complements the stunning views of the blue oceans to make your soul swoon with genuine romance. Cruising, renowned for being a perfect pastime for newlyweds, only enhances the romance of your honeymoon experience at your chosen locations.
Places To Visit: The French Riviera, New Zealand, Barbados, Australia, Santorini, and Alaska
Final Words
Check out the list of things to do on a honeymoon stated above if you are planning one. If you plan it properly, the two of you will have a memorable experience on your honeymoon.