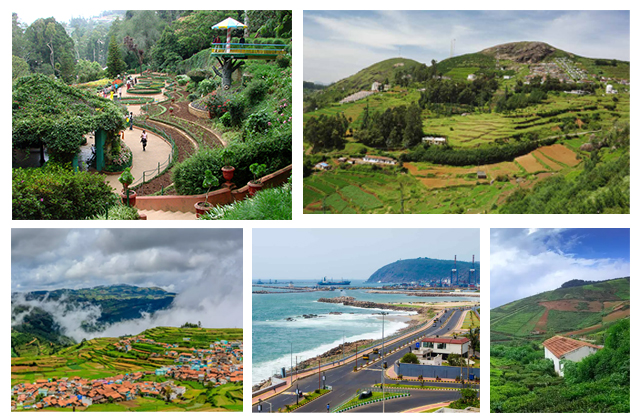 South India has some absolute places, making it an ideal honeymoon location. It has endless beaches, lush foliage, towering hills, peaceful backwaters, and a vast array of flora and wildlife. Your honeymoon trip should provide you with lifelong memories, and South India never fails to deliver.
South India is rich with unique locations. Couples have an endless list of things to do, including day trips on backwaters, exciting treks through lush vegetation, boating on tranquil lakes, and learning about tea production. Here, we've covered a few stunning South Indian places that you can consider for your honeymoon. So look around and decide where to go on your honeymoon.
Munnar
Munnar, a lovely gateway in Kerala, is unquestionably the ideal hill resort for a honeymoon in South India. The town has excellent weather all year round due to its location between the Western Ghats hill ranges. In addition, this lovely tea town's visual appeal has made it an often recommended honeymoon location that has drawn several honeymoon couples throughout the years.
Things to Do:
Set aside time to unwind in a tree home.
Visit the Lakkam Waterfalls for a picnic.
Enjoy a shikara ride on Kundala Lake.
Purchase your favorite items at the Munnar markets.
Explore Kerala cuisine at restaurants in Munnar.
Wayanad
The term "Wayanad" is derived from "Vayal Naadu," which means the land of paddy fields, in the Malayalam dialect spoken in Kerala. Wayanad, a lush paradise, is one of South India's most alluring locations for a honeymoon. Wayanad is, without a doubt, one of the best destinations to visit on your honeymoon trip to Kerala, offering lush rolling hills, crystal-clear rivers, unusual animals, misty mountains, and incredible friendliness from the locals.
Things to Do:
Spend the night caving and stargazing with your special someone.
Take a romantic boat ride on Pookode Lake.
You can surprise your par with a luxurious stay at Vythiri Village Resorttner.
Take some amazing photos with Soochipara Falls as the background.
Kovalam
Kovalam is the ideal location for people looking for the nicest beaches in South India for their honeymoon. Kovalam is home to quiet beaches, overgrown natural wonders, salty winds, breathtaking sunsets, opulent honeymoon beach resorts, and candlelit beachside dinners. Kovalam, which is well-known for its pristine beaches, tropical towns, and alluring activities, must be included in your itinerary for your Kerala South India honeymoon trip.
Things to Do:
Take a few photos at Kovalam Beach with the well-known lighthouse in the background.
Enjoy Kovalam Beach's sunbathing.
Kovalam Beach Resort is a luxurious place to stay where you may sample delicious seafood.
Take your special someone to Vellayani Lake for a picnic.
Pondicherry
Unquestionably, Pondicherry is among the top South Indian tourist destinations for couples. Pondicherry offers a classic European honeymoon experience with its pristine beaches near the French colonies, the smells of freshly brewed coffee and pancakes, and breathtaking views of the exteriors of the historic buildings. While on your honeymoon trip to Pondicherry, you must take a bicycle ride together through the town's vibrant lanes.
Things to Do:
Take a walk along Promenade Beach.
Surprise your partner with a romantic candlelight dinner on the Promenade Hotel's rooftop.
Stay at Dune Eco Village and add a spa treatment to your stay.
Discover unusual bird species at Ousteri Lake.
Enjoy the breathtaking sunset views from Mahe or Auroville Beach to cap off your day vacation.
Ooty
One of the best South Indian hill stations for a honeymoon trip is Ooty, a resort town in the Western Ghats highlands. Ooty, a small hill town in Tamil Nadu, is known for its picturesque surroundings. It is a rejuvenating trip for those who enjoy the outdoors because of its tranquil lakes, breathtaking waterfalls, and beautiful rolling hills with green tea plantations. An Ooty honeymoon tour is the ideal option for couples looking for a rejuvenating vacation to mark the beginning of their relationship.
Things to Do:
You may enjoy a magnificent morning vista from Emerald Dam and Lake to start your unforgettable honeymoon trip.
Take your partner boating on Ooty Lake and have fun.
Together, hike through the dense forest to Doddabetta Peak and take in the scenery.
Learn about the 3600 different species of roses by visiting the largest rose garden in India.
Pray for future harmony with Lord Murugan at Elk Hill Temple.