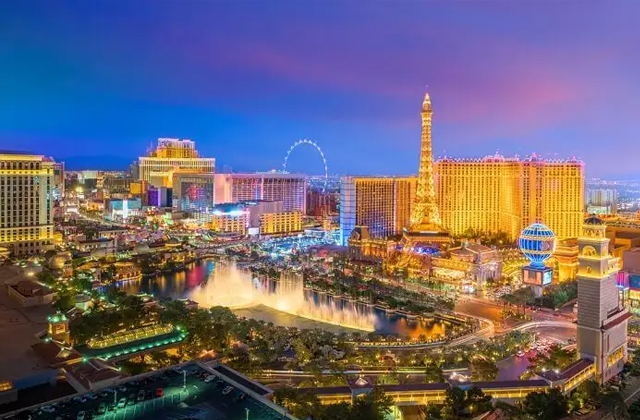 Welcome to our guide on the ten best things to do in Las Vegas. Known as the world's entertainment capital, Las Vegas is a city that never sleeps. With an array of attractions, shows, casinos, and restaurants, it's no surprise that Las Vegas is a top tourist destination. So, if you're a first-time traveler or a seasoned Vegas-goer, here is the list of the top 10 things to do in las vegas. So, grab your itinerary and dive into the best things to do in Las Vegas.
Best 10 Amazing Things to Do in Las Vegas 
Las Vegas is known for its vibrant entertainment, world-class resorts, and lively atmosphere. Here are ten of the best things to do in Las Vegas:
1

. Visit the Bellagio Fountains:

Witness the mesmerizing water show at the Bellagio Hotel and Casino. The choreographed fountains dance to music, creating a spectacular visual display that is truly unforgettable.

Experience a Show:

Las Vegas offers many world-class shows, including mesmerizing Cirque du Soleil performances, magicians, comedians, and famous headliners. Choose a show that suits your interests and indulge in the entertainment.

Explore the Las Vegas Strip:

Stroll along the famous Las Vegas Strip, lined with iconic resorts, dazzling lights, and extravagant

las vegas attractions.

Enjoy the themed hotels, street performers, and vibrant energy.

Try your Luck at the Casinos:

Las Vegas is synonymous with gambling. Test your luck at the numerous casinos and try various games, from slot machines to poker tables. Remember to gamble responsibly.

Visit the High Roller Observation Wheel:

Visit the LINQ Promenade and ride the High Roller, the tallest observation wheel in the world. From the enclosed cabins, take in breathtaking views of the Las Vegas cityscape and the surrounding desert scenery.

Explore Downtown Las Vegas:

Head to the revitalized Downtown Las Vegas, Fremont Street. Experience the Fremont Street Experience, a pedestrian mall with dazzling light shows, street performers, and various entertainment options.

Take a Helicopter Tour of the Grand Canyon:

Experience the awe-inspiring beauty of the Grand Canyon from a whole new perspective. Take a helicopter tour of

Las Vegas places to visit

and enjoy breathtaking views of one of the world's natural wonders.

Dine at World-Class Restaurants:

Las Vegas is a culinary paradise boasting many award-winning restaurants. From celebrity chef-owned establishments to international cuisines, indulge in fine dining experiences and savor exquisite flavors.

Visit the Neon Museum:

Discover the history of Las Vegas through its iconic neon signs at the Neon Museum. Take a guided tour and learn about the city's rich heritage and vibrant culture and the restoration efforts of these vintage signs.

Relax by the Pool:

Las Vegas is known for its luxurious pools. Spend a day relaxing by one of the many resort pools, soak up the sun, and enjoy the poolside amenities. Some pools even host pool parties with live DJs for a lively atmosphere.
Final Words
Remember that Las Vegas offers a wide range of activities in addition to those listed below, such as shopping, spa visits, golfing, and more. So make the most of your stay in this vibrant city by tailoring your trip to your interests.