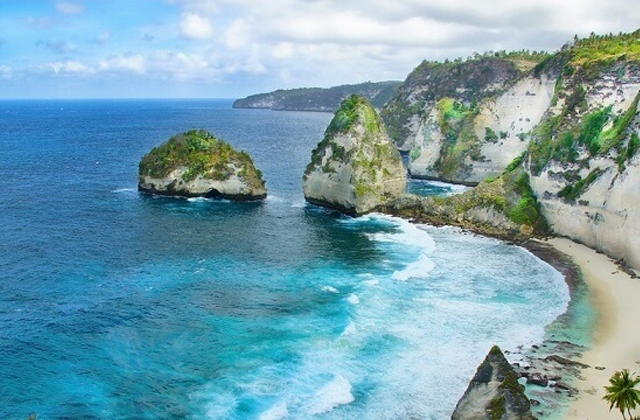 Nusa Penida is a picturesque island located southeast of Bali, Indonesia. It has gained popularity among travelers for its stunning landscapes, rugged coastline, and vibrant marine life. Here's a travel guide to nusa penida island and how to visit:
Getting to Nusa Penida:
   – By Fast Boat: The most common way to reach nusa penida is by taking a fast boat from Sanur or Padang Bai in Bali. The boat ride takes 30-45 minutes, depending on the departure point. Multiple boat operators are offering daily services.
Best Time to Visit:
   – The dry season from April to October is generally the best time to visit bali, Nusa Penida. The weather is sunny, and the sea conditions are calmer, making it ideal for activities such as snorkeling and diving.
   – If you don't mind the occasional showers, Nusa Penida's rainy season, which runs from November to March, might still be an excellent time to visit. This is typically a less congested period on the island.
Getting Around Nusa Penida:
   – Given the size of the island, Nusa Penida, the roads can be difficult and unpaved. The two most popular ways of transportation are renting a scooter or hiring a private driver. Rental scooters are available close to the harbor, and tour companies or lodging establishments can arrange for drivers.
Top Attractions:
   – Kelingking Beach: Known for its iconic T-Rex-shaped cliff, Kelingking Beach offers breathtaking views and is a popular spot for photography.
   – Angel's Billabong and Broken Beach: These natural formations offer stunning coastal views. Angel's Billabong is a natural infinity pool, while Broken Beach is a unique cliffside arch with a natural bridge.
   – Crystal Bay: A beautiful beach known for its crystal-clear waters, snorkeling, and diving opportunities. It's a wonderful spot for unwinding and watching the sunset.
   – Atuh Beach: A hidden gem with a white sandy beach, towering cliffs, and turquoise waters. It's less crowded compared to other beaches on the island.
   – Thousand Islands Viewpoint: Offers a panoramic view of small islets and clear blue waters. It's a challenging hike but rewards you with breathtaking scenery.
Snorkeling and Diving:
   – Nusa Penida is renowned for its diverse marine life and excellent snorkeling and diving spots. Crystal Bay, Manta Point, and Gamat Bay are popular sites for exploring the underwater world and encountering manta rays, colorful coral reefs, and tropical fish.
Plan Sufficient Time:
   – Nusa Penida has many attractions spread across the island, and it's advisable to spend at least two or three days exploring the main highlights without rushing. This allows you to enjoy the island's natural beauty at a more relaxed pace.
Local Culture and Etiquette:
   – Like the rest of bali island, Nusa Penida has a predominantly Hindu culture. It's respectful to dress modestly when visiting temples or local villages and to follow any cultural practices or guidelines the locals give.
Final Words
Remember to check the latest travel information, including ferry schedules, and follow any safety instructions provided. Enjoy your visit to Nusa Penida and its stunning natural wonders!