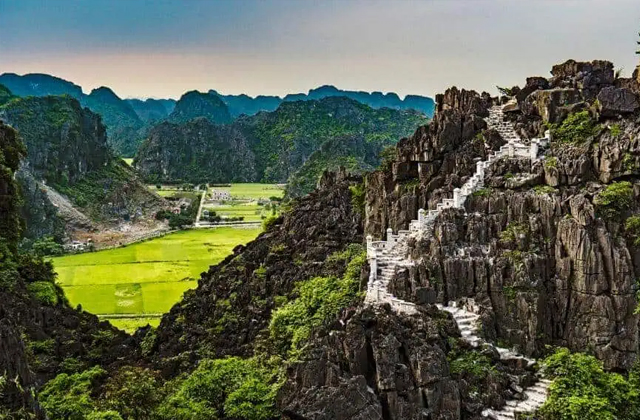 Asia is a continent filled with diverse and stunning destinations. While popular tourist spots are always worth a visit, exploring lesser-known places to visit in asia can offer a unique and off-the-beaten-path experience. Here are eight beautiful lesser-known spots in Asia to consider visiting in 2023:
Ninh Binh, Vietnam:

Often referred to as "Halong Bay on land," Ninh Binh is known for its dramatic limestone karsts, lush rice paddies, and tranquil riverways. Take a boat ride through the picturesque Tam Coc or Trang An, visit ancient temples and pagodas, and explore the scenic countryside by bike.

Gokarna, India:

Located in Karnataka, Gokarna is a serene coastal town known for its beautiful beaches and religious significance. Enjoy pristine stretches of sand, visit the famous Mahabaleshwar Temple, hike to secluded beaches like Paradise Beach and Om Beach, and witness mesmerizing sunsets.

Hsipaw, Myanmar:

Tucked away in the Shan State, Hsipaw offers a glimpse into rural Myanmar. Explore the scenic countryside,

travel asia

local villages, embark on a trek to waterfalls and tea plantations and learn about the unique cultures and traditions of the Shan people.

Belitung Island, Indonesia:

Located off the eastern coast of Sumatra, Belitung Island boasts pristine white sand beaches, crystal-clear turquoise waters, and unique granite rock formations. Discover hidden coves, go island hopping, snorkel, or dive to explore vibrant coral reefs, and experience the laid-back island life.

Khao Sok National Park, Thailand:

Nestled in southern Thailand, Khao Sok National Park is a verdant paradise with dense rainforests, limestone cliffs, and a vast lake. Embark on jungle treks, kayaking, or bamboo rafting, spot wildlife such as gibbons and hornbills, and stay in floating bungalows amidst stunning natural surroundings.

Jiufen, Taiwan:

This charming mountain village is located just outside Taipei and is renowned for its narrow alleyways, teahouses, and stunning coastal views. Wander through the vibrant streets, sample local street food, visit traditional tea houses, and soak in the nostalgic atmosphere.

Hampi, India:

Hampi, a UNESCO World Heritage Site noted for its ancient ruins and architectural wonders, is located in the southern state of Karnataka. Explore the vast Vijayanagara Empire ruins, including temples, palaces, and stone chariots. Don't miss the iconic Virupaksha Temple and watch the sunset from Hemakuta Hill.

Phong Nha, Vietnam:

Located in central Vietnam, Phong Nha is a paradise for nature enthusiasts. Discover the impressive Phong Nha-Ke Bang National Park, home to stunning caves, underground rivers, and lush landscapes. Explore the renowned Paradise Cave, Phong Nha Cave, and Dark Cave, or go hiking and zip-lining through the park.
Final Words
These lesser-known spots in Asia offer captivating landscapes, cultural experiences, and a chance to escape the crowds. Whether you're seeking tranquility, natural beauty, or historical treasures, these destinations will surely leave you with unforgettable memories.