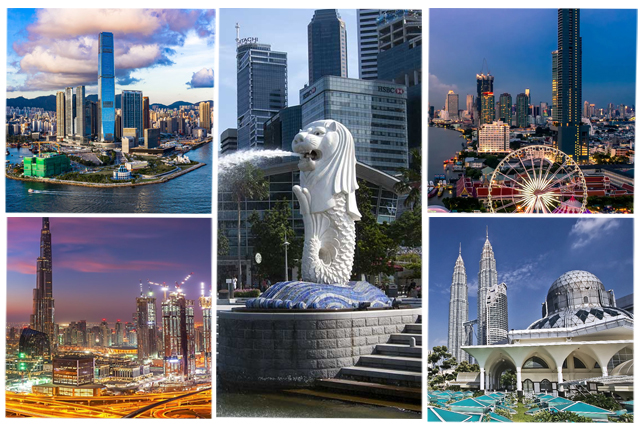 Everyone loves Diwali. The main focus is getting together with friends and family and enjoying the holiday. However, the festival of lights is combined with a weekend this year, making it the ideal justification for a trip abroad. Check out the following list if you're interested in traveling abroad over the Diwali weekend. Additionally, it offers you a chance to see how different nations celebrate Diwali.
List of 5 Best International Destinations To Visit On Diwali Weekend
This year, a long weekend follows Diwali. The best action is to take advantage of this gap and travel abroad for a brief yet rejuvenating vacation. The top foreign locations to visit over the Diwali holidays are listed below.
Dubai
The stunning city of the Middle East, Dubai, is only a short, four-hour flight away. Dubai is the #1 international destination on our list for the Diwali weekend, thanks to its beautiful malls, amusement parks, souks, and stunning beaches. Dubai is perfect for a family holiday since it will stop at nothing to keep you interested and captivated. Due to the sizeable Indian population in Dubai, you might also have the opportunity to enjoy spectacular Diwali decorations and fireworks at various locations throughout the city.
Main Attractions: Burj Khalifa, Jumeirah beach, The Dubai Mall, Palm Islands, gold and spice souks, desert safari. 
2. Singapore
Another apparent option when considering travel to a foreign country over the Diwali weekend in Singapore. In addition to the city's main tourist attractions, Little India has Diwali decorations, lights, and fireworks. Make your trip memorable by indulging in Orchard Road's Diwali shopping.
Main Attractions: Sentosa, Singapore Zoo, Universal Studio, Marina Bay Sands, and Gardens by the Bay
3. Bangkok 
Bangkok attracts tourists from around the world all year long. Bangkok is undoubtedly one of the better possibilities for international travel for Diwali weekend. This city has it all for a fun-filled vacation: swanky malls, multi-cuisine restaurants, historic temples and pagodas, stunning beaches, and several amusement parks.
Main Attractions: Bangkok Zoo and Safari World, Tiger Temple, Reclining Buddha temple, MBK Mall, and Floating market
4. Malaysia
Malaysia is one of the most searched locations to visit over the Diwali weekend due to its stunning islands, expansive beaches, and opulent resorts. Make your Diwali exciting and fun-filled by making plans for Langkawi and Kuala Lumpur. You can unwind at the beaches, engage in adventure activities, hike through the rainforest, visit a casino, or climb to the top of the Petronas Twin Towers for a breathtaking perspective of the city.
Main Attractions: Twin Towers, Cameron Highlands, Genting Highlands, and Batu Caves
5. Hong Kong
Hong Kong is another place to go on vacation that might be used as a weekend escape for Diwali. Hong Kong is a popular location for all ardent visitors because of its cruises, theme parks, museums, and shopping malls, especially for those organizing a family holiday abroad over the Diwali weekend. Additionally, since Diwali is the finest time to visit Hong Kong, you may anticipate most of everything the city offers. Additionally, you might include a day excursion to Macau and take in the ethereal splendor of the picturesque island.
Main Attractions: Disneyland, Ocean Park, Victoria Peak, Star Cruise, and Lantau Island.
Final Words
Traveling abroad over the Diwali holiday weekend is a great idea to spice up your celebrations. So, start packing your bags!