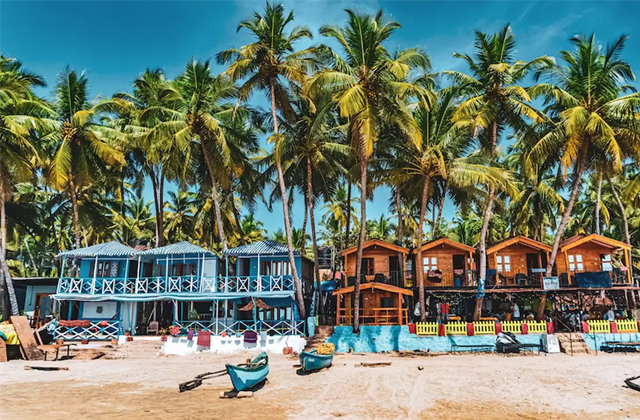 Friendship is a bond that deserves to be celebrated, cherished, and strengthened with unforgettable experiences. What better way to do this than embarking on an adventure with your closest pals? As Friendship Day 2023 approaches, it's time to plan a trip that will create lifelong memories. To help you out, here are ten beautiful destinations to travel to with your friends, each offering unique experiences and bonding opportunities.
Bali, Indonesia – The Island Paradise:
Bali's breathtaking landscapes, vibrant culture, and warm hospitality make it an excellent destination for a friend-filled getaway. From surfing on the famous beaches of Uluwatu and enjoying the vibrant nightlife of Seminyak to exploring ancient temples in Ubud, Bali offers a perfect balance of relaxation and adventure. Renting a private villa and indulging in delicious Indonesian cuisine together will strengthen the bond between friends.
Santorini, Greece – A Dreamy Getaway:
Santorini's stunning sunsets, white-washed buildings, and crystal-clear waters create a dreamy ambiance that will leave you and your friends in awe. Stroll through the charming streets of Oia, relax on the beautiful beaches, and sail around the volcanic caldera. Sharing breathtaking views and delectable Mediterranean meals will make this Greek island getaway an unforgettable experience for all.
Kyoto, Japan – A Blend of Tradition and Modernity:
Kyoto offers a unique blend of history and modernity with its ancient temples, beautiful gardens, and traditional tea houses. Exploring the picturesque Arashiyama Bamboo Forest, dressing up in traditional kimonos, and savoring authentic sushi will deepen your bond while immersing you in the beauty of Japanese culture.
Cape Town, South Africa – An Adventure in Diversity:
Cape Town's stunning landscapes, diverse culture, and exciting outdoor activities make it an ideal destination for adventurous friends. From hiking up Table Mountain and surfing at Muizenberg Beach to exploring the vibrant neighborhoods of Bo-Kaap and Woodstock, Cape Town offers a dynamic and unforgettable experience for every type of traveler.
Prague, Czech Republic – The Fairytale City:
Prague's fairy-tale-like architecture, cobbled streets, and charming atmosphere create a perfect backdrop for a magical friendship. Explore the iconic Charles Bridge, visit the stunning Prague Castle, and indulge in traditional Czech cuisine and beer at local pubs. The city's enchanting ambiance will make your friendship feel like a storybook adventure.
Reykjavik, Iceland – Nature's Wonderland:
Iceland's raw and unspoiled beauty offers nature-loving friends a unique and memorable experience. Reykjavik is an outdoor enthusiast's paradise, from chasing the Northern Lights and exploring glacial lagoons to relaxing in geothermal hot springs and hiking along volcanic landscapes.
Bangkok, Thailand – A Vibrant Metropolis:
Bangkok's bustling markets, vibrant street food scene, and rich cultural heritage make it an exciting destination for friends seeking a lively and dynamic experience. Explore the Grand Palace, hop on a long-tail boat along the Chao Phraya River, and dive into the bustling nightlife at Khao San Road. Bangkok's energy and charm will keep you and your friends entertained throughout your trip.
New York City, USA – The City That Never Sleeps:
New York City's iconic landmarks, Broadway shows, and diverse neighborhoods offer an exhilarating experience for friends looking to explore a buzzing metropolis. From taking a ferry to the Statue of Liberty and strolling through Central Park to enjoying a slice of authentic New York-style pizza, the Big Apple guarantees a non-stop adventure.
Queenstown, New Zealand – An Adrenaline-Fueled Escape:
Queenstown, often referred to as the world's adventure capital, is perfect for thrill-seeking friends. Experience the rush of bungee jumping, skydiving, and white-water rafting amidst the stunning backdrop of Lake Wakatipu and the Southern Alps. Sharing heart-pounding experiences will undoubtedly create unforgettable memories.
Barcelona, Spain – A Feast for the Senses:
Barcelona's unique architecture, delicious cuisine, and vibrant beach culture make it an ideal destination for friends seeking a sensory-rich adventure. Explore the architectural wonders of Antoni Gaudí, savor tapas and sangria at bustling local eateries, and relax on the beautiful beaches of Barceloneta. The city's warm ambiance and lively atmosphere will make your friendship an extraordinary experience.
Conclusion
Friendship Day 2023 is the perfect opportunity to celebrate your bond with your closest friends and create cherished memories. Whether you seek relaxation, adventure, cultural experiences, or a blend of everything, these ten beautiful destinations have something to offer every group of friends. So pack your bags, embark on an unforgettable journey, and celebrate the power of friendship with a trip that will leave you with stories to tell for years to come.