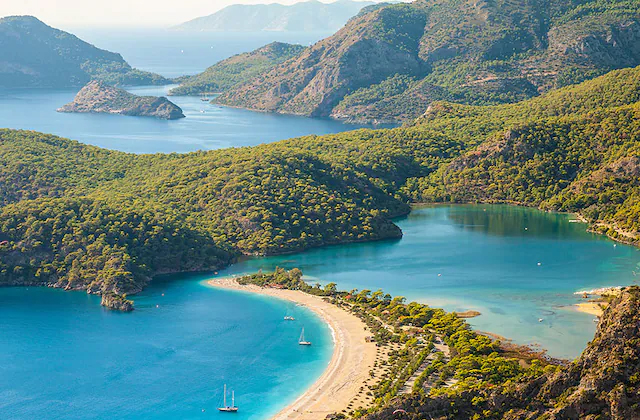 Turkey's Turquoise Coast is a breathtaking destination that attracts tourists from all over the world. This region is a true paradise on Earth with its stunning beaches, crystal clear waters, and scenic landscapes. If you plan a trip to Turkey's Turquoise Coast, you must explore its must-see destinations. In this post, we have compiled a tourist checklist of Turkey's top places to visit. So, gear up for an unforgettable journey and get prepared to be fascinated by the beauty of Turkey's Turquoise Coast.
Antalya:

Start your journey in the vibrant city of Antalya, often called the gateway to the Turquoise Coast. Explore the historic old town (Kaleiçi) with its narrow streets, Ottoman-era houses, and charming shops. Don't miss the impressive Antalya Museum, showcasing artifacts from various ancient civilizations.

Pamukkale:

Head inland to Pamukkale, a unique natural wonder known for its surreal white terraces formed by mineral-rich thermal waters. For a genuinely unique experience, dip in the warm pools and stroll barefoot on the terraces.

Ephesus:

Take a trip to Ephesus, one of the best-preserved Roman ruins. Investigate the spectacular theatre, the opulent Celsus Library, and the Temple of Artemis, one of the Seven Wonders of the Ancient World.

Bodrum:

Make your way to the lively coastal town of Bodrum, famous for its vibrant nightlife, luxury resorts, and imposing Bodrum Castle. Explore the charming marina, indulge in delicious seafood, and visit the Bodrum Museum of Underwater Archaeology.

Fethiye:

Discover the stunning coastal town of Fethiye, surrounded by breathtaking natural beauty, making it one of the most

beautiful places.

Take a boat tour to the picturesque Ölüdeniz Beach, known for its turquoise lagoon and paragliding opportunities. Don't miss the ancient Lycian rock tombs carved into the cliffs.

Kaş:

Continue your tour to the charming town of Kaş, known for its tranquil atmosphere and stunning diving spots. Explore the narrow streets lined with colorful bougainvillea, visit the ancient theater, and take a boat trip to Kekova Island with its partially submerged ancient ruins.

Dalyan:

Head to Dalyan and embark on a river cruise through the scenic Dalyan Delta. Marvel at the ancient rock-cut Lycian tombs, relax in the mineral-rich mud baths, and spot Caretta Caretta sea turtles at İztuzu Beach.

Butterfly Valley:

A visit to Butterfly Valley is a must for nature lovers. Accessible only by boat, this secluded paradise is home to numerous butterfly species and offers pristine beaches, hiking trails, and breathtaking cliffs.

Gocek:

Explore the peaceful town of Göcek, nestled in a stunning bay surrounded by lush pine forests. Enjoy sailing, visit the nearby islands, and relax in the beautiful marina.

Blue Cruise:

Experience a traditional Turkish gulet cruise along the Turquoise Coast. Set sail from one stunning bay to another, swim in secluded coves, indulge in delicious Turkish cuisine, and witness unforgettable sunsets.
Final Words
Check local travel advisories and guidelines before visiting these destinations to ensure a safe and enjoyable trip. The Turquoise Coast of Turkey is a true gem, offering a perfect blend of history, natural beauty, and unforgettable experiences for every traveler.