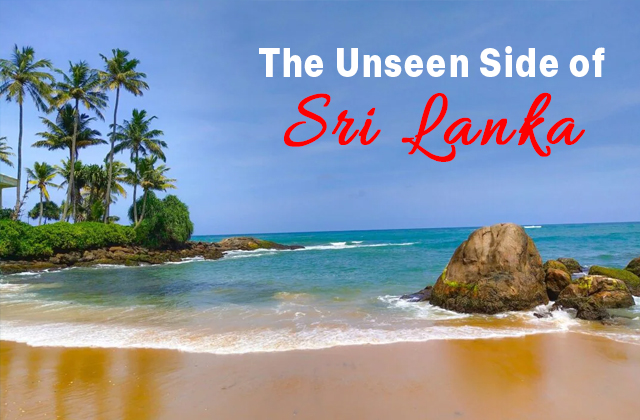 Sri Lanka has a rich heritage and diverse culture, offering visitors various experiences. From ancient cities and temples to stunning beaches and lush tea plantations, there are many best things to see in sri lanka. Here's a guide to help you experience Sri Lanka's rich heritage regarding where to eat, stay, and play.
Where to Eat:
Ministry of Crab (Colombo):

This renowned restaurant is a must-visit for seafood lovers, offering delicious crab dishes in a colonial-era building.

The Curry Leaf (Colombo):

Located at the Hilton Colombo, this restaurant serves authentic Sri Lankan cuisine with various curries and traditional dishes.

Nuga Gama (Colombo):

In a village-like atmosphere, Nuga Gama offers a range of Sri Lankan delicacies in a rustic setting. Enjoy traditional dishes served on lotus leaves and dine under the stars.

The Fort Printers (Galle):

Situated in a beautifully restored Dutch mansion, The Fort Printers offers a fusion of Sri Lankan and international cuisine, focusing on fresh seafood and local ingredients.

Upali's by Nawaloka (Colombo):

Known for its traditional Sri Lankan flavors, Upali's offers a wide range of local dishes, including rice and curry, hoppers, and string hoppers.
Where to Stay:
Galle Face Hotel (Colombo):

Established in 1864, this iconic heritage hotel offers a luxurious stay with colonial charm and panoramic views of the Indian Ocean.

Amangalla (Galle):

Located within the historic Galle Fort, Amangalla is a luxury boutique hotel that combines old-world elegance with modern comforts.

Heritance Tea Factory (Nuwara Eliya):

Set in a converted tea factory, this unique hotel provides a glimpse into Sri Lanka's tea heritage. Enjoy the magnificent views of the nearby tea estates while indulging in a classic afternoon tea.

Ulagalla (Anuradhapura):

Situated in the cultural triangle of Sri Lanka, Ulagalla offers luxurious villas set amidst a 58-acre private estate. Experience the country's ancient heritage while enjoying modern amenities.

Jetwing Vil Uyana (Sigiriya):

Nestled amidst wetlands, this eco-luxury resort offers private chalets with stunning views of nature. It's located close to Sigiriya Rock Fortress, allowing you to explore the region's cultural sites easily.
What to Do and See:
Sigiriya Rock Fortress:

Climb Sigiriya, a historic rock fortress that is a UNESCO World Heritage Site, to admire the stunning views and ancient ruins.

Temple of the Tooth (Kandy):

Visit the Temple of the Sacred Tooth Relic to see Lord Buddha's tooth relic. Witness the daily rituals and explore the rich history and architecture of the temple.

Dambulla Cave Temple:

Explore the fascinating cave complex of Dambulla, adorned with intricate Buddhist murals and over 150 Buddha statues.

Anuradhapura:

Discover the ancient city of Anuradhapura, one of Sri Lanka's oldest and most significant historical sites. Explore the ancient ruins, monasteries, and sacred Bodhi trees.

Galle Fort:

Explore the Galle Fort's winding streets, which are included as a UNESCO World Heritage Site. Admire the colonial architecture, boutique shops, and charming cafes within the fortified walls.

Tea Plantations in Nuwara Eliya:

Visit a tea estate in Nuwara Eliya, known as the "Little England" of Sri Lanka. Take a guided tour to learn about tea production, sample freshly brewed tea, and enjoy the scenic beauty of rolling hills.