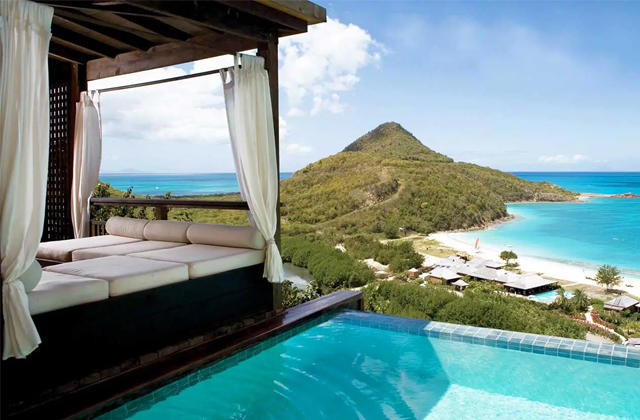 The Caribbean is synonymous with pristine beaches, turquoise waters, and romantic sunsets, making it an idyllic destination for couples seeking a dreamy getaway. The area has multiple luxurious resorts that offer the ideal blend of relaxation, adventure, and romance. Whether you're looking for a secluded retreat or a lively atmosphere, the caribbean vacations has something for every couple. In this article, we will explore six incredible resorts in the Caribbean that are tailor-made for a couple's retreat, promising an unforgettable experience filled with love and romance.
Jade Mountain Resort, St. Lucia:
Nestled amidst the lush tropical surroundings of St. Lucia, Jade Mountain Resort is a true haven for couples seeking privacy and seclusion. The resort's architectural masterpiece features open-walled suites, allowing uninterrupted views of the iconic Piton Mountains and the Caribbean Sea. With its personalized butler service, private infinity pools, and world-class spa, Jade Mountain offers an unparalleled romantic experience.
Couples Tower Isle, Jamaica:
Located in the heart of Ocho Rios, Couples Tower Isle is a classic Jamaican resort that exudes elegance and charm. This all-inclusive adult-only property boasts private white sand beaches, lush gardens, and breathtaking ocean views. Couples can indulge in various activities, such as snorkeling, kayaking, or simply unwinding in the serene spa. The resort's vibrant nightlife and gourmet dining options add a touch of excitement to the romantic atmosphere.
Spice Island Beach Resort, Grenada:
Renowned for its warm hospitality and natural beauty, Spice Island Beach Resort in Grenada offers couples an intimate and luxurious escape. With its elegant beachfront suites, private plunge pools, and world-class cuisine, the resort caters to every romantic whim. Couples can explore the pristine Grand Anse Beach, enjoy rejuvenating spa treatments, or savor a romantic candlelit dinner on the sand.
Sandy Lane, Barbados:
Sandy Lane in Barbados is the perfect choice for couples seeking the ultimate in luxury and sophistication. This iconic resort offers unparalleled luxury amidst lush tropical gardens overlooking the sparkling caribbean sea. Sandy Lane creates an enchanting ambiance for couples to unwind and reconnect, from its lavish suites and private villas to its three world-class golf courses and award-winning spa.
The Caves, Jamaica:
Tucked away in Negril's stunning cliffs, The Caves is a unique, intimate resort designed for couples seeking a romantic escape. Its rustic-chic cottages, nestled amidst lush gardens and overlooking the turquoise sea, provide a secluded retreat. Couples can explore the resort's private caves, enjoy a sunset swim in the natural saltwater pool, or embark on a romantic candlelit dinner in a cave setting, creating unforgettable memories.
Petit St. Vincent, St. Vincent and the Grenadines:
For couples desiring a true Robinson Crusoe experience, Petit St. Vincent delivers an unmatched sense of seclusion and tranquility. This private island resort offers luxurious cottages tucked away amidst lush greenery and secluded beaches. With no televisions or Wi-Fi, couples can truly disconnect and immerse themselves in the natural beauty of the surroundings. The resort's attentive service and personalized dining experiences make it a perfect romantic getaway.
Conclusion
The Caribbean is a haven for couples seeking a romantic escape, and these six incredible resorts provide the ideal setting for a couple's getaway. From the stunning views at Jade Mountain Resort in St. Lucia to the intimate charm of The Caves in Jamaica, each resort offers its unique blend of luxury, privacy, and romance. Whether you prefer to relax on white sand beaches, embark on thrilling adventures, or indulge in world-class cuisine, the Caribbean has it all. So pack your bags, leave your worries behind, and embark on a journey to one of these incredible resorts for an unforgettable romantic experience in the Caribbean.