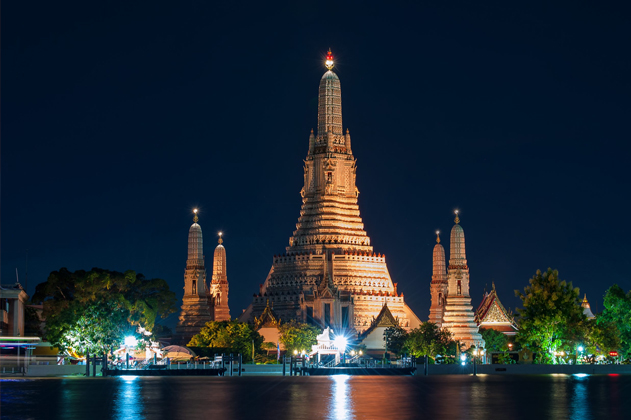 Everyone often immediately thinks of massage parlors and clubs when they hear the name "Bangkok." Most visitors who have returned from a leisurely journey have always praised the city's culture. However, the top locations to visit in Bangkok prove that it has much more to offer.
These sites give a soul-stirring experience and reflect Thai culture at its best. You must visit these destinations on your honeymoon, traveling alone or with your family. They offer limitless enjoyment and experiences that are unforgettable. Discover the top attractions in Bangkok that will help you understand Thai culture, experience the vibrant nightlife, and savor delicious Thai food.
5 Best Places To Visit In Bangkok
So now, when planning a trip to Thailand, visit these top five marvelous places in Bangkok.
Wat Arun
Wat Arun, known as the "Temple of the Dawn," is the most beautiful temple in the city and is located on the west bank of the Chao Phraya River. It is a treasure that is well worth visiting because of its architecture and location. The temple, whose name is taken from the Hindu god Aruna, is revered by the locals and is considered one of the top family-friendly destinations in Bangkok.
Jim Thompson's House
Jim Thompson's Home is an unusual but intriguing site in Bangkok, Thailand, and is frequently listed as one of the best things to see there. After World War II ended, Jim, a well-known American spy, lingered in Thailand and brought back the city's extinct art. The six structures in this grouping were built to reflect the splendor of traditional Thai architecture. This Bangkok attraction should be on your list of things to see if you enjoy visiting museums.
Chao Phraya River
The legendary "Chao Phraya River" must be included on any list of tourist attractions in Bangkok. This river, which flows south to the Gulf of Thailand, will provide countless adventures. Although the excellent dinner cruises and charming ferry rides are plenty of a reason to come here, its stunning splendor against the backdrop of magnificent structures makes a trip here much more worthwhile, making it one of the top tourist destinations in Bangkok. A fantastic time to visit is from December to February when the weather is lovely here in Thailand.
Sea Life Bangkok Ocean World
Searching for Bangkok attractions to see in a single day? The stunning Ocean World, known as the Siam Ocean World, is one of the must-see tourist attractions in Bangkok and is ideal for visitors who are only in the city for the day. It sits two stories below the opulent Siam Paragon shopping mall, which will astound you with the exhilarating adventures it offers and the 30,000 curious-looking animals it houses worldwide.
Safari World
The well-known Safari World allows animals to move around freely and at their leisure, in contrast to other zoos and animal tourist locations in Bangkok. It contains a sizable Safari Park where you can drive through and see wildlife and a Maritime Park where you can enjoy engrossing live performances, delectable regional cuisines, and souvenir shopping. This is the perfect place to go if you want an exciting day out. This is among the top attractions in Bangkok for adults and children.