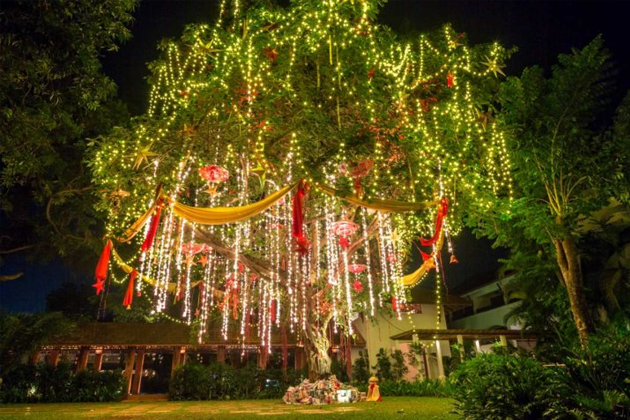 There is enough colonial architecture in Goa to keep you interested. Locates that ooze old-world elegance are the Archbishop's Palace, Penha de Franca, Viceroy's Gate, Basilica of Bom Jesus, and Church of Our Lady of Immaculate Conception. Below you will find the top destinations in Goa throughout the holiday season!
Top 5 Places To Go For Christmas Celebration In Goa
Old Goa
Old Goa is a favorite at Christmas because of its fading beauty. People from all over the world gather at the Church of St. Francis of Assisi to see the pope's mortal remains, making it the site of attraction.
Other famous buildings that must be seen in Old Goa include the Chapel of St. Catherine, the Se Cathedral from the 16th to the 17th century, and the domed Church of St. Cajetan, modeled after St. Peter's in Rome.
Anjuna Beach
Think Curlies, Shiva Valley, and Anjuna. This location, arguably the most lively in North Goa, is well known for its rave parties and trendy crowd. So it makes sense why this is considered one of the top Goa locations on Christmas Eve.
Clubbing/Partying Hotspots
In Goa, clubbing is the best activity. And you can visit the city's hot club before the Goa Christmas party or New Year's Eve. The Goa Club's electric vibrations are one element that makes it unique. Around the holidays and the New Year, Goa is constantly bursting with happy people who love to party and want to immerse themselves in the celebrations fully.
In Goa, Club Cabana in Arpora, Tito's Lane at Baga Beach, and the beachside shacks at Anjuna Beach are a few clubs that are well-liked throughout the holiday season.
Beach Shacks
On Goa's coastline, numerous shacks await an occasion to dress up and celebrate. Christmas Eve in Goa is undoubtedly a fantastic time to host one! No matter which well-known beach you decide to visit on this day, you'll find yourself surrounded by a rowdy crowd bopping their heads to loud music, beach shacks illuminated in colors and lights, and the aroma of food being cooked over an open flame.
If you love to party, the energy in the beach shacks in Goa around Christmas will drive you mad. The celebration won't end before morning, which is the finest part!
Restaurants
Goa also has something unique in store for you if you like to eat to party! You can come to many locations in Goa that hold special Christmas dinner buffets in inexpensive packages and indulge in mouthwatering Goan cuisine to your heart's delight.
Most countries' live shows, music, and other festivities typically accompany the dinner arrangement. It's the best Christmas activity you can enjoy with your loved ones or spouse in Goa without losing out on the festivities.