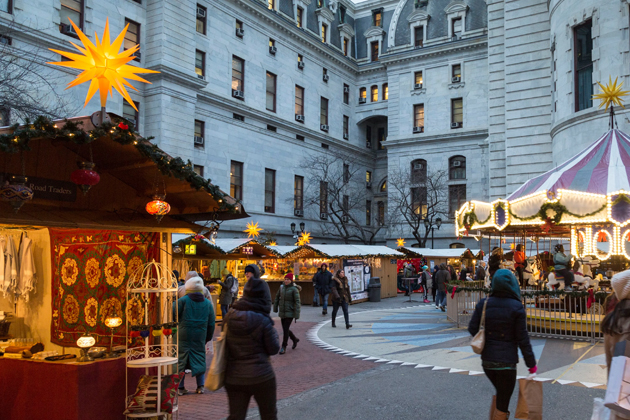 Get ready for Christmas happiness by wrapping up: Although they are located in the United States, these lively European markets have an authentic sense of the European tradition. If you're looking for holiday charm but cannot travel across the pond to Europe's famous holiday markets, we've found the best Christmas markets in the United States.
The Great Dickens Christmas Fair, San Francisco
Visitors to The Great Dickens Christmas Fair in San Francisco can immerse themselves in Victorian London for five weekends starting on November 19 and ending on December 18, 2022. Merrymakers will come across music halls, theatres, bars, dance parties, stores packed with handcrafted seasonal treasures, and hundreds of characters from the universe created by literary great Charles Dickens as they travel along the winding, lamp-lit alleys of this not-so-winter wonderland. Don't miss the opportunity to visit the cart selling freshly roasted organic chestnuts in vintage paper cones.
Peoples Gas Holiday Market, Pittsburgh, Pennsylvania
From November 19 through December 23, downtown Pittsburgh hosts the Peoples Gas Holiday Market in honor of the holiday season. The market is located in the exquisitely lit Market Square, allowing for wandering outside. While exploring the wooden chalets filled to the brim with handmade Polish folk art, German Christmas goods, Celtic Irish trinkets, and even fresh Austrian strudels and bratwursts, visitors can listen to live music.
Solvang Julefest, California
Get your fix during the annual Solvang Julefest, held in the Danish-American community of Solvang, founded in 1911 and upholding Danish culture to this day, from November 26 to January 6, 2023. The entire town is decked out, which adds to the fairytale ambiance, which the Solvang Julefest website defines as "a walk-through of a vintage postcard and a Hallmark movie simultaneously." However, the market is ideal for eating your festive Danish dishes. Avoid missing the Solvang nativity pageant, Julefest Parade, candlelight tours, and tree lighting ceremony.
Downtown Holiday Market, Washington, D.C.
Visit the Downtown Holiday Market in Washington, D.C., from November 18 to December 23, 2022, for an outdoor shopping village with regional jewelry, pottery, paintings, and textiles – a touch of European beauty in our nation's capital. More than 75 boutiques, craftsmen, and crafters are available for shopping, and visitors can take in nightly seasonal entertainment. At 8th and F Streets N.W., the market is located in the middle. It's closed on Thanksgiving Day and on December 5.
Holland Kerstmarkt, Michigan
Head to Holland, a town in Michigan designed to resemble the country with the same name once upon a time, to experience one of the most festive domestic locations (now known as the Netherlands). The yearly Kerstmarkt ("Christmas market" in Dutch) in Holland features 18 booths and is an outdoor European-style market with seasonal goods, regional cuisine, and artisan demonstrations. Kerstmarkt, which takes place at the 8th Street Marketplace from November 19 through December 10, 2022, coexists at the weekly farmers market.