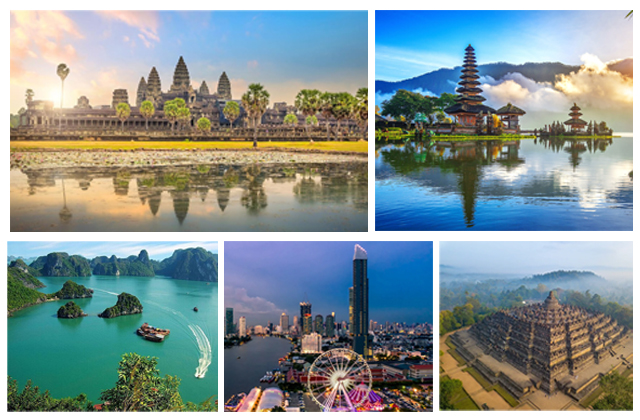 Southeast Asian countries represent a completely different culture for Western visitors. It has long been a favorite destination for globetrotting backpackers, with perfect beaches, delectable cuisine, low prices, and convenient air connections.
Southeast Asia will entice active, adventurous travelers who want to travel long distances through steamy jungles, camp, dive in some of the world's best coral reefs or go whitewater rafting on new rivers. The following is a list of the best places to visit in Southeast Asia.
List of 5 Best Destinations to Visit in Southeast Asia
Here is a list of the best Southeast Asian countries for your next trip. Take a look, make your choice, pack your bags, and don't forget to bring your camera because you won't miss out on capturing the heavenly sights.
Angkor
Angkor in northern Cambodia is a must-see for archaeological sites. It is home to some of the world's significant cultural relics. Among these are the massive Angkor Wat temple and the Bayon temple, with many massive stone faces. 
Angkor served as the Khmer capital from the ninth to the fourteenth centuries, influencing art throughout Southeast Asia.
2. Bali
Bali, Indonesia's undisputed favorite of its more than 17,000 islands, lives up to its reputation as the quintessential tropical paradise. Bali's waters are known for their high marine diversity and coral reefs, while its lush rice terraces give a picturesque backdrop to its colorful and extremely spiritual Hindu culture.
The island also has many great beach towns, such as Kula, and other performing and artistic arts areas, such as Ubud.
3. Ha Long Bay
Ha Long Bay has thousands of limestone karst islands of various shapes and sizes, which resembles a scene from a fantasy story. Some of the islands have lakes, while others are hollow and have a colorful fairytale of grottoes inside.
On Ha Long Bay, there are four fishing villages made up of floating houses where the residents fish for 200 different fish and 450 different mollusks.
4. Bangkok
Bangkok, Thailand's capital, grew from a small trading post in the 15th century to a city of eight million people today. Visitors will find numerous photo opportunities at the city's famous floating markets, where they can also purchase vegetables, tropical fruits, and Thai snacks prepared in a floating kitchen. When tourists get tired of visiting temples, they can go shopping or to a snake farm.
5. Borobudur
Borobudur is the world's largest and most famous Buddhist temple, located on the Indonesian island of Java, 40 kilometers (25 miles) northwest of Yogyakarta. The kingdom of Sailendra constructed the Borobudur over 75 years in the 8th and 9th centuries, using an estimated 2 million blocks of stone.
It was abandoned in the 14th century for reasons that are still unknown, and for centuries it lay hidden in the jungle beneath layers of volcanic ash.
This fantastic region is overflowing with diversity and natural and man-made attractions. Above are listed some favorite Southeast Asia attractions that will make your trip memorable and look great on your Instagram feed!