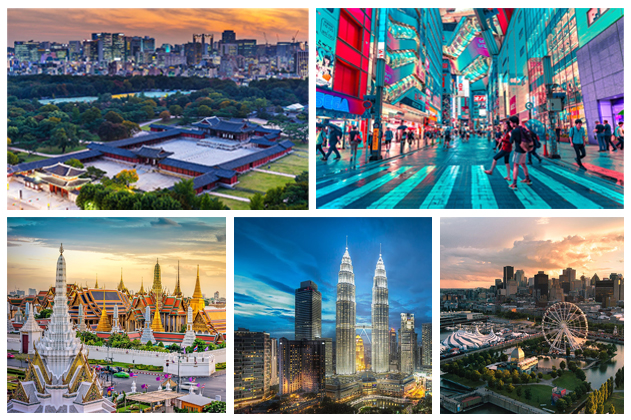 Even though travel should be simple and available to everyone, the world is still dangerous for women. Asian women are considerably more at risk while traveling alone due to the spike in Asian hate crimes. Nonetheless, female-only vacation spots are more well-liked than ever. Overseas Adventure Travel reports that women make up 85% of its solo travelers, and between 2018 and 2019, more than 60,000 American women traveled alone. Keeping this in mind, let's discuss some of the safest locations for women to go alone, particularly if they are Asian.
Top 5 Safest Places for Women to Travel Alone
Seoul – South Korea
The capital of South Korea is a good place for women to travel alone because of its superb transportation system and low crime rate. Even if you need help in Seoul, locating English-speaking locals is easy, so you can always ask for assistance. Seoul is a captivating fusion of the old and new, with grand palaces and shrines set against trendy shopping areas and instagrammable cafes.
Get a Discover Seoul Pass to access the city's top attractions for maximum convenience. The ticket can also get discounts at stores and on buses and trains.
Tokyo – Japan
Japan is one of the best places for solo female travelers because it has a low crime rate and is simple to navigate. To cut costs on lodging, consider vacation rentals and capsule hotels, which are ideal for solo travelers unable to share expenses.
There is almost too much to see here, so plan and choose the best locations. Tsukiji Market is the best place for foodies in Tokyo to find fresh sushi and sashimi at reasonable rates. The city's Akihabara neighborhood is perfect for pop culture nerds because it is home to a bewildering selection of anime and video game shops and unusually themed cafes. Finally, Tokyo is one of the finest solo trips for women who want a little bit of everything because of the enormous variety of options.
Bangkok – Thailand
The capital city of Thailand will undoubtedly provide solo travelers with value for their money with its stunning temples and vibrant culture. One of Southeast Asia's safest destinations for solo travelers, it's simple to get around due to various transportation choices like buses, sky trains, subways, taxis, tuk-tuks, and river taxi boats. In addition, Thailand is a famous destination for backpackers, making it a great place to meet new people while traveling.
You can explore magnificent temples like Wat Arun and Wat Phra Kaew in Bangkok and find excellent bargains at weekend markets. Enjoy genuine Thai street food and browse for amazing deals at Chatuchak Market, the biggest weekend market in the world. Let loose in Bangkok's entertainment hotspots like Khao San Road and Soi Cowboy after the sun goes down.
Kuala Lumpur – Malaysia
Kuala Lumpur is one of the finest solo trips for women, which needs to be more appreciated. It is simple to get around because English is commonly spoken, and public transportation is well-served in the city. However, when attending mosques and other places of worship, women may need to wear modest attire. Fortunately, there are not many limitations on female travelers traveling alone.
Enjoy the panoramic views from the Petronas Twin Towers while you're here, or buy 'til you drop in the city's numerous markets and shopping centers. You can also make day trips from Kuala Lumpur to the breathtaking Batu Caves, a network of limestone caverns home to a spectacular Hindu temple.
Montreal – Canada
One of the safest locations for a woman to travel alone in Montreal, which has one of the lowest crime rates in Canada. The city has a very walkable bus and metro rail network. So, getting around should be fine for those traveling alone.
The Jean-Talon Market, one of the biggest open-air markets in North America with more than 300 stalls offering fresh produce, flowers, and other items, is one of Montreal's top attractions.