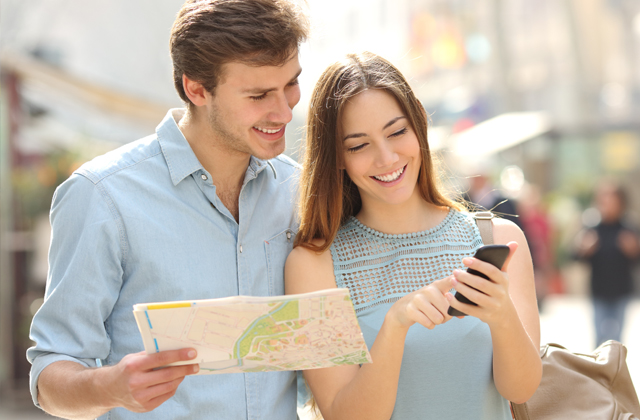 There are apps for everything these days. But specific applications are more beneficial than others. For example, a travel planner app is crucial for travelers on their phones. Using travel apps to plan trips will completely relieve any tension you may have, whether you're new to traveling or an experienced traveler.
These innovative travel planning applications have cool functions like customized itineraries, offline maps, and personalized suggestions.
Finding a vacation planner app in your app store may overwhelm you. So how do you pick the best app for vacation planning when there are so many options?
To organize your trips, we've tested many travel itinerary apps. The top three travel planning applications for iOS and Android devices are listed below.
Top 3 Best Travel Planning Apps
TripIt (IOS | Android)
TripIt is one of the best holiday planning applications. It is a favorite among travelers who have many trips planned and backpackers.
This is because it acts as a personal travel assistant by compiling your reservations, confirmations of your bookings, and airplane tickets into a clear and understandable schedule.
To use the app, all confirmation emails for your forthcoming trip must be forwarded to its email address. Following that, the intelligent system will generate a master itinerary for each of your trips at no cost to you!
Additionally, the app will sync with your calendar, automatically adding your reservations and flights to your schedule. Additionally, the app has offline functionality, allowing you to access your itinerary without an internet connection.
All the beautiful features mentioned above are available in the app's free edition. It already ranks among the best applications for creating trip itineraries, but for $49 a year, you can upgrade to TripIt Pro and get more features. For example, real-time flight notifications and a backup flight finder are included in the advanced capabilities if your primary ones are disrupted.
Roadtrippers (IOS | Android)
You'll adore the Roadtrippers app if you'd rather travel by car than by plane. This program is designed specifically for road trip planning, as the name would imply.
It tracks your progress while you travel and makes recommendations to help you plan the road trip of a lifetime. Roadtrippers go above and beyond, suggesting places to stop for food and gas.
This road trip buddy will inform you and your traveling companions about various engaging activities and the best camping locations. It's wonderful for providing "off the beaten path" ideas that you might not have otherwise encountered.
This app's drawback is that it only functions in a few nations. You can now use it in the USA, Australia, and New Zealand. This might be the finest software for organizing your upcoming US road trip, even though it can't assist you when traveling around Europe.
TripAdvisor (IOS | Android)
Even though TripAdvisor is a well-known travel website, you might need to be aware of all their app can do. Of course, the best tool for arranging trips is the TripAdvisor travel app.
It provides dependable advice on all elements of your trip, including what to do, where to stay, where to eat, and what sights to see. The places you find interesting can be saved, displayed on a map, and shared with other travelers.
The all-encompassing features of Trip Advisor make the app one of the top trip organizers in 2021. For example, when you locate restaurants you want to visit, you can reserve a table in the app. You may also compare hotel and airfare prices to get the greatest offers.
This app operates in more than 8 million locations if more is needed. This software might quickly become your favorite and most excellent vacation planner wherever you plan to travel.
Final Words
Apps for planning trips are innovative tools for all types of travelers. For example, you could need assistance booking a flight, putting together an itinerary, or discovering ideas for your upcoming backpacking trip. Whichever one of these three top travel planner applications you choose will depend on your needs.