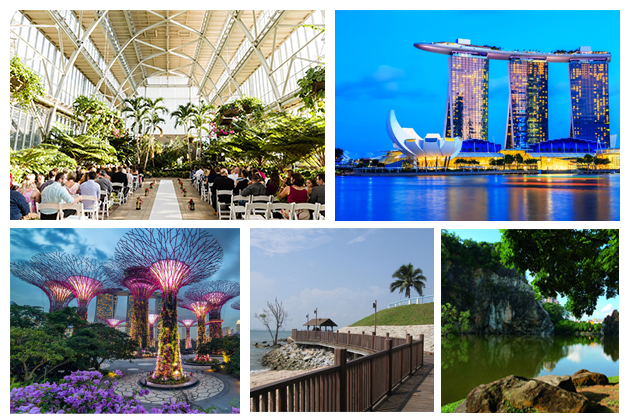 Ever wanted to spend your honeymoon in Singapore? Modern art, billion-dollar gardens, futuristic architecture, eye-catching new hotels, and a retail joyride are all hallmarks of Singapore. This is valid for every beach in the world, as well as the amazing display of water and lights. Singapore has many honeymoon-friendly attractions, ensuring visitors won't be dissatisfied with their time there. A newlywed couple may take numerous trips to different places to enjoy special times together. Couples who enjoy being in a busy environment and want to spend time together should go there.
10 Best Places To Visit In Singapore For Honeymoon
These Singapore attractions are ideal for honeymooning couples to see. The best spots to visit Singapore with your special someone are listed here.
Changi Point Coastal Walk
Changi Point is renowned for its scenic shoreline stroll and spectacular views of the ocean, offshore kelongs, and boats. It is a favorite honeymoon site in Singapore. Experience a gorgeous sunset with your special someone while mesmerizing by the old-growth trees, hilltop chalets, and lush environs. It is one of Singapore's most popular honeymoon locations.
Bukit Batok Town Park
One of the top honeymoon destinations in Singapore is Bukit Batok Town Park. Xiao Guilin is a well-liked destination for lovers and wedding photographers and is well-known for its stunning vistas of the surrounding countryside. Take a romantic stroll through the lovely trees next to the beautiful, serene lake the locals call Xiao Guilin.
Singapore River: Cruise Down
A honeymoon in Singapore would be incomplete without a stroll along Clarke Quay to explore the city's historical features and get a breathtaking perspective of Marina Bay Sands, The Merlion, and other well-known sites. Alternatively, enjoy a lovely evening on the river watching the light show with your significant other. It is undoubtedly among Singapore's most stunning and romantic locations.
Jewel Box
One of Singapore's nicest and most romantic locations is The Jewel Box. Visit Mount Faber Park, one of Singapore's best natural areas, for a beautiful perspective of the entire city, including the port. A romantic meal at the Jewel Box can be scheduled while traveling through the city.
Marina Bay Sands
Marina Bay Sands is one of Singapore's most popular romantic destinations. First, take a stroll by the Marina Bay Sands while taking in the laser light show, a breathtaking display of water jets, lasers, and fire geysers. Then, enjoy champagne at the KU DÉ TA Club Lounge while taking in the 360-degree view of Singapore from the top of the Marina Bay Sands. The evening will intensify the romance in Singapore's most enchanting resort.
Gardens By The Bay
It is a must-see location in Singapore. View the beautiful, energy- and water-saving Supertrees and man-made mountain biome surrounded by natural and exotic vegetation. This great honeymoon in Singapore represents the future of romance. You can check out many attractions close to Gardens by the Bay.
Beaches Of Sentosa
Singapore honeymoon destinations must include Sentosa island. Enjoy a leisurely morning on the white sands with your significant other in Singapore, known for its immaculate beaches, water sports, and retreats. Also, visit Butterfly Park and Insect Kingdom for a natural stroll, or play beach volleyball on Siloso Beach.
Singapore Flyer
On your honeymoon in Singapore, do you want to have a romantic date with your partner? One of the top venues for couples to go out to supper in Singapore is Singapore Flyer. From a thrilling height, take in the city's breathtaking vistas while sipping champagne and indulging in delicious fare.
Universal Studios: For Thrill-Seekers
Every traveler's ambition is to visit Universal Studios at least once in their lifetime. It is one of the best tourist spots in Singapore for a honeymoon. So why not take advantage of this if you are visiting Singapore? And believe us when we say nothing brings people closer together like an exciting adventure. In addition to experiences, Universal Studios Singapore also has dining options.
Night Safari
If you don't have any arrangements for the evening, the Night Safari in Singapore is one of the most unforgettable experiences you can have while on your Singapore honeymoon. The Night Safari makes one of the top honeymoon destinations in Singapore if you and your partner enjoy the adventure. It is the world's first nocturnal zoo. Therefore, curiosity might draw you here, if nothing else.
Final Words
Are you prepared to explore these places to visit in Singapore with your partner now that you know the greatest locations to spend an unforgettable honeymoon? These locations all have a strong romantic scent. So visit these locations with your loved one to make some priceless memories!