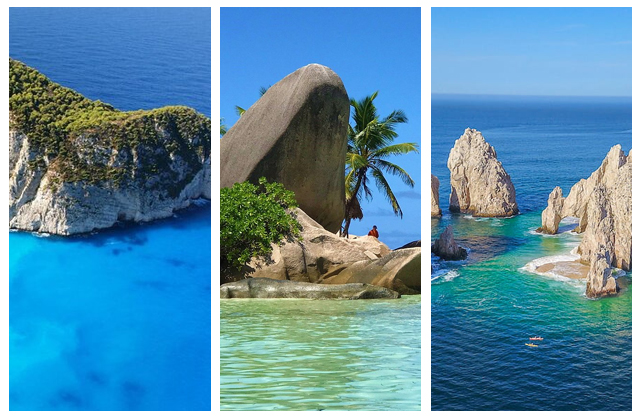 We are all drawn to beautiful shorelines in the summer, whether endless stretches of golden sand, remote white coves with glistening turquoise waters, or anywhere in between. Summer also brings magnificent weather and severe wanderlust.
Here are ten of the most stunning beaches in the world, from Spain to Seychelles.
Top 10 Most Beautiful Beaches to Visit in the World
Navagio Beach, Greece
Navagio, a tiny, uninhabited bay on Zakynthos Island's northwest coast, is frequently cited as Greece's most stunning beach and one of the country's most popular tourist destinations. The sugar-white beach, with its famous historic shipwreck, is surrounded by high cliffs and the brilliant blue seas of the Ionian Sea. It takes your breath away and makes you happy. Only reachable by boat, Navagio beach is definitely worth the trek.
Anse Source d'Argent, Seychelles
Anse Source d'Argent, one of the most well-known beaches in Seychelles but still remote enough to conjure up images of paradise, is notable for its immaculate white sands bordered by swaying palm palms and peculiar granite boulders that plunge sharply into the sea. The beach is situated on the sleepy island of La Digue, where development is kept to a minimum, and life moves slowly.
Lover's Beach, Cabo San Lucas
Lover's Beach (Playa del Amor) is still breathtakingly gorgeous, even though the romanticism associated with the name might not be as obvious these days. It is a stunning natural setting, situated between imposing rock formations, impresses travelers since it is close to the charming Land's End, facing the Sea of Cortez. A fantastic diving and snorkeling paradise, the waters are crystal clear and abundant with marine life.
Whitehaven Beach, Australia
One of the most beautiful beaches in the world is Whitehaven in Australia, which features waters in unlimited colors of blue and the cleanest white silica sand. The beautiful Hill Inlet, with its vivid blue waters and swirling sands, is located on the jewel's northernmost tip. This gem runs approximately 7 kilometers around Whitsunday Island.
Phra Nang Beach, Thailand
One of Thailand's most beautiful beaches is Phra Nang on the Railay peninsula, which is protected by towering limestone cliffs and surrounded by the shallow, emerald waters of the Andaman Sea. Only accessible by longtail boat from Ao Nang, the region is particularly well-known among rock climbers who come here to soak in the breathtaking surroundings or jump off the ominous cliffs.
Wai'anapanapa Black Sand Beach, Maui
This strange beach is a stretch of black sand and a sacred location with a solid connection to Hawaiian tradition. It is located in Hana's magnificent Wai'anapanapa State Park, just off the Hana Highway, between lush tropical flora and black lava rocks. Aside from the dramatic scenery, this gloomy stretch of sand and stones is also the location of intriguing freshwater caves and historic graveyards.
Pfeiffer Beach, California
Photographers from all over the globe flock to the lovely Pfeiffer Beach in Big Sur, California, for its unusual purple sand, spectacular offshore rocks, and the mystic light that appears here for a few days each year.
Cocoa Island Beaches, Maldives
There isn't such a bad beach in the Maldives, but Cocoa Island's white, fine beaches and beautiful azure waters are perfect.
Ses Illetes, Formentera
The Spanish Playa de Ses Illetes on the lovely Balearic island of Formentera is perhaps one of the gorgeous beaches in the Mediterranean Sea. It has all the necessary elements, including Caribbean-white sand, clear blue waters, and a relaxed, bohemian vibe that gets under your skin.
Ipanema Beach, Rio de Janeiro
Ipanema, the sexiest beach in the world, is where beach cool and breathtaking natural beauty perfectly coexist as days give way to nights to the beats of the sensual samba, and gorgeous, tanned sun worshippers cheer the spectacle of the sun setting over the water.