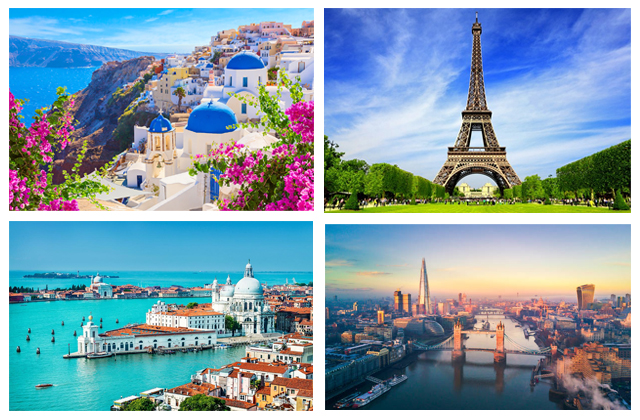 Europe has traditionally been a popular honeymoon location for newlyweds to celebrate their union. However, seasoned tourists and first-time visitors are sure to find another ideal fit somewhere on the old continent with many appealing options.
The top 10 European honeymoon destinations are listed for those organizing their post-wedding vacations.
Santorini
Newlyweds are drawn to Santorini by its magnificent scenery. Spend your honeymoon trekking around the caldera, swimming in the Aegean Sea, or straying past charming whitewashed buildings in Oia. On this Greek island, getting a room with a view is simple. Additionally, you can rely on the quantity of fresh seafood and locally grown wine grown in volcanic soil to make your meals nothing short of divine.
Top Attractions: Cape Columbo Beach, Red Beach, Fira Village, Oia, Ancient Thira, Pyrgos, Ammoudi Bay, Akrotíri Archaeological Site.
Cyclades Islands, Greece
The area of Greece that attracts the most honeymooners has long been a favorite destination. One of the most photographed locations on earth is Santorini, known for its whitewashed villages perched above a mysterious caldera cliff. The neighboring Cyclades islands of Mykonos, Paros, Naxos, and Crete are all equally delightful to visit.
Exploring the entire area and recognizing the distinctive characteristics between small islands is a treat, thanks to the regular ferry service between the islands. Fresh seafood, traditionally warm hospitality, and the breathtakingly blue Mediterranean Sea await you wherever you dock.
Top Attractions: Agrari Beach, Hiking Trail Fira – Oia, Little Venice, Lefkes, Amoudi Bay.
Paris, France
Romantic moments may be had pretty much anyplace in Paris because of the city's unparalleled beauty. The simple pleasures the City of Light offers, such as sipping coffee at a quaint sidewalk café, strolling along the Seine's cobblestone walkways, enjoying a picnic near the Eiffel Tower, and meandering through the Tuileries or Luxembourg gardens, will enchant honeymooners.
Top Attractions: The Louvre, Eiffel Tower, Pont des Arts, Notre-Dame Cathedral, Temple of Love, Île Saint Louis, River Seine
Croatia
Over the past ten years, Croatia has seen a rise in the number of newlywed travelers attracted by its walled capital city of Dubrovnik and its hip yacht parties on Hvar Island. In addition, due to Croatia's prominent location on the Adriatic Sea (just across from Italy), tourists are attracted by the country's relative affordability compared to its Western European neighbors.
Stay close to the water and visit the Southern Dalmations' islands for a memorable honeymoon focused on the beach. Or venture into Croatia's rural areas to discover the country's lakes, castles, wineries, and generally comfortable way of life.
Top Attractions: Dubrovnik Old Town Walls, Diocletian's Palace in Split, Hvar Town, Pula's Roman Arena
Prague 
For newlyweds, Prague's Gothic, Romanesque, and Baroque buildings create an ultra-romantic ambiance. Explore the quaint alleyways of Old Town, climb Petrin Hill for breathtaking vistas of flower-filled gardens, or make love on Charles Bridge as the sun sets. Prague has stunning aesthetics and a wide variety of inexpensive dining options. Spend your savings on a stay at a five-star hotel in the city.
Top Attractions: Letna Park, Petrin, Vltava Islands, Vysehrad, Havlicek Gardens, Kunratice Forest.
Porto
Porto is the kind of city that can simultaneously be grand and unassuming. Porto, a large city in Portugal, has a slower pace of life than Lisbon, making it the perfect location for a leisurely honeymoon. Spend your days relaxing with a glass of Douro Valley wine while admiring the scenery from one or more of the city's renowned high bridges. Then, if the weather is favorable, stroll around the city's vibrant streets and unwind on one of its stunning beaches.
Top Attraction: Downtown Porto, Lello Bookstore, Clérigos tower, Clérigos tower, The Cristal Palace
Venice
Millions of tourists visit Venice annually for a reason: the city's landscape is unique due to its alluring canals, charming centuries-old buildings, and well-known gondola rides. After exchanging vows of fidelity beneath the Bridge of Sighs, visit famous locations, including St. Mark's Square. Additionally, allow time for a day trip to the vibrant island of Burano.
Top Attractions: Grand Canal, Venetian Lagoon, Gallerie dell'Accademia, Lido di Venezia, Rialto Bridge
Tuscany, Italy
Couples who love picturesque rural settings and sandy beaches should think about honeymooning in Italy's finest wine region. Spend your days casually touring quaint tiny towns and drinking glasses of Chianti at nearby wineries before enjoying mouthwatering fresh pasta dishes at one of the many Michelin-starred restaurants in the area. You and your significant other will feel as though you've entered a fairy tale thanks to the region's abundance of hotels, most of which are standalone villas or castles.
Top Attractions: Piazzale Michelangelo, Piazza del Campo, Leaning Tower of Pisa, Piazza del Duomo, Piazza della Signoria
London, England
This destination is full of exciting activities, historical context, and opulent hotels and dining options. You can indulge yourself and live like a king or queen here by sightseeing, shopping, and dining to your heart's desire. It's exciting in and of itself to hop on bikes or into a classic black taxi cab to tour the city.
World-famous attractions can be seen in a single day, followed by afternoon tea, a trip through traditional pub culture, and a live theatre play in the West End.
Top Attractions: Big Ben, Buckingham Palace, Gordon's Wine Bar, London Eye, Tower of London, British Museum, National Gallery, Albert Museum, The Shard
Amsterdam, Netherlands
Consider Amsterdam for a honeymoon enhanced by romantic canal views and a laid-back atmosphere. The capital city of the Netherlands is renowned for its cultural legacy, cool and pleasant residents, exciting nightlife, and bicycles. Yes, cycling has permeated Amsterdam's cultural landscape beyond just transportation (there is quite literally a bicycle for every person, and cars are virtually nonexistent save for the occasional taxicab). However, Amsterdam has risen in the ranks due to proximity, cost, and atmosphere alone, and we enjoy it for mini-moons and shorter honeymoons.
Top Attractions: Rijksmuseum, Van Gogh Museum, Heineken Brewery, Anne Frank House, Amsterdam's West Church, Vondelpark, Jordaan