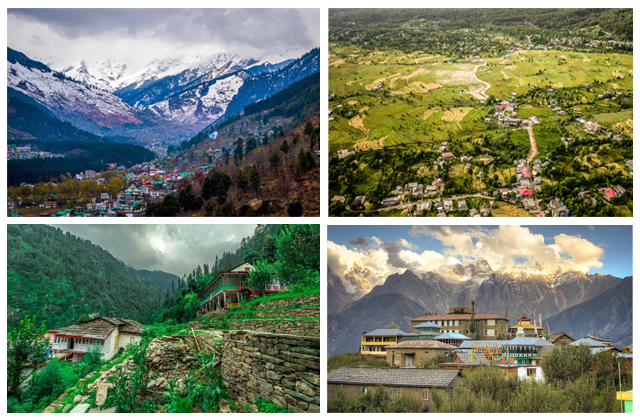 Himachal Pradesh is wonderful all year long, but if you're searching for one of the best times to visit when there aren't many people around, you're in for a treat. Unfortunately, fewer people travel to Himachal because of its harsh winters unless it's a significant holiday like New Year's Eve. So here are the top locations in Himachal for a leisurely winter vacation.
Top 8 Himachal Destinations Are Winter Wonderland
Manali
Manali in winter is stunning, with breathtaking views of the surrounding mountain ranges, all covered in snow, days that feel like Christmas, fewer tourists in the streets, and very high chances of snowfall. Although the days immediately following a snowstorm are extremely chilly, you will also have clear, sunny days to enjoy the sun.
Bir
If you don't like the piercing cold of Manali this winter, go to Bir. There are stunning mountain views and sunny days here, so you may enjoy as much sunbathing as you want. Moreover, most of the restaurants are open here. So pick Bir if you want a peaceful vacation in Himachal without snow.
Jibhi
Jibhi has its charms despite not being as chilly or well-known as Manali. You can go on beautiful hikes on clear days, stroll to the river to take a plunge, enjoy some delicious thukpa, and be ready for some lovely winter days in this location.
Kalpa
Kalpa is one of the most picturesque locations in the nation and is located in the Kinnaur district. The best thing about the place in the winter is how much snow falls there and how much of the business activity stops. It is an adventure to appreciate Kalpa in solitude with no other tourists, but the residents around because certain homestays and motels remain open throughout the winter. But be sure to bring a lot of woolen clothing!
Kasauli
It's simple to get to Kasauli in the winter and doesn't take any planning. Those who enjoy winter will undoubtedly find it incredible because the temperature is not shockingly low. Since it does not snow here, you can enjoy lengthy hikes, extended sunbathing sessions, and fantastic views.
Khajjiar & Dalhousie
The distance between Khajjiar and Dalhousie is only a short drive. Both locations have winter snowfall and a strong Ruskin Bond vibe. While Dalhousie is slightly more upscale and has a few upscale lodging alternatives, Khajjiar has a more traditional appeal. Of course, you can stay here and enjoy a cozy stay and campfire nights.
Lahaul & Spiti
Himachal's Lahaul and Spiti valleys offer very different wintertime experiences. Especially if you've been during the summer, be prepared for some surprises. The landscape appears different from what you may have observed on days when it was warmer. While the winter trip to these locations is more difficult, you will be in for a treat when you do. A homestay with the locals will keep you warm and cozy while you visit some of this country's most fantastical landscapes.
Shimla
Shimla has a charm in the winter that you should experience. Shimla has a lot of things in the winter: walk along the Mall, take a tonne of pictures in the nearby lanes, take a long walk to Old Shimla, take a bus to Sanjauli, tuck into pancakes at Wake & Bake, swoon over piping hot gulab-jamun from Baljee's, do nothing but people watch and wait for rose-colored sunsets, or make snowballs.