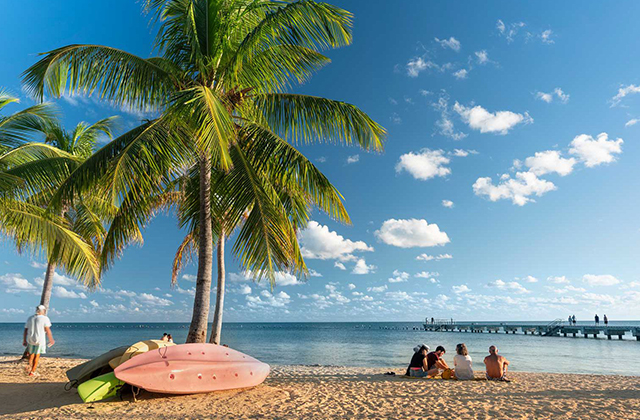 Spending time on the beach can create lifelong memories. So, here we are to help you select a beach destination for your vacation getaway. We have prepared this list by considering factors like safe waters, attractions, dining options, spacious accommodations, and multigenerational appeal to determine the best beach vacations in the U.S. Let's check out the top beach destinations in the USA now.
Miami Beach
Miami Beach, in southern Florida, is very well-liked in the spring and summer. Miami Beach is a favorite among residents of Florida and tourists alike because of its vibrant nightlife, clear oceans, and Caribbean-style atmosphere. Hostels in Miami also allow backpackers to explore the city's numerous neighborhoods and the water.
Myrtle Beach
Myrtle Beach, a gem of South Carolina, is perfect for enjoying the Atlantic waves and a carnival-like atmosphere. See eateries, take a trip on the Ferris wheel, visit the aquarium, or just stroll barefoot in the sand while breathing in the sea air. Families, couples, friends, and lone travelers who want to get away from the grind for the weekend should visit this location.
Virginia Beach
Virginia Beach is a place that gets very little attention. Yet, this beach is the ideal weekend retreat throughout the summer. In the summertime in North America, the water warms up and offers a cool respite from the heat. The city has a relaxed, Californian vibe and resembles Myrtle Beach just a little bit. There are many things to do, including strolling along the boardwalk, touring the Military Aviation Museum, dining on just-caught seafood, and taking a relaxing swim in the warm sun.
Santa Monica & Venice
Santa Monica and Venice are twin beaches that are near each other. Spending a little vacation in this region is essential if you ever find yourself on the West Coast! The beaches are not so far, you can either stroll, take an uber for a short ride, or hire a bike, which was my favorite method to explore the area.
Santa Monica emanates a more family-friendly attitude with its Ferris wheel, fish in the neighboring harbor, or merely take in the California sun. On the other hand, with its distinctive street vendors and surf boundaries, Venice has a more alternative vibe. In addition to being close to the ocean, Beverly Hills and the Hollywood sign make this area ideal for a pleasant weekend escape.
Malibu
Malibu is a developing beach in Southern California that is less well-known than Venice or Santa Monica. However, even while the city may not be as well-known as its cousins, everyone in southern California is familiar with it. This seaside city has been the inspiration for the names of many songs, and it's undeniably the beauty of the place that inspires musicians.
Visitors can easily schedule a long weekend to visit each city since Malibu is very near to Venice and Santa Monica. In addition, some of the most scenic coast views can be found in Southern California, so be sure to come prepared with a fully charged camera and a heart eager to create lifelong memories.