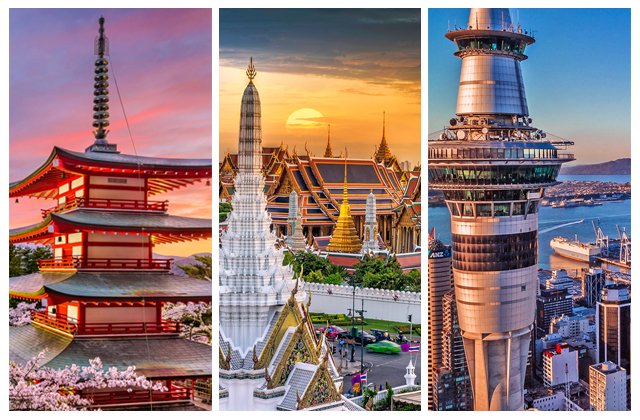 Being a solo traveler is always a unique experience. The independence, challenges, and anxieties of traveling alone will all be justified when you enjoy that highly awaited vacation. You won't find this kind of freedom and assurance anywhere else. However, to perfect the art of solo travel, you must choose the right destination. Whether you're embarking on an epic multicounty adventure or enjoying an impulsive city getaway, some places are better suited for a lone travel experience than others. We have prepared a list of a few areas that are great for your first solo trip to assist you in planning your solo break.
Top 5 Best International Destinations for Solo Travelers in 2023
Japan
East Asian Japan is an island country. It is one of the world's safest, cleanest, and well-run countries. It is undoubtedly among the greatest locations for a solo vacation. It is also one of the most distinctive in terms of culture, cuisine, and the innovative application of technology in everything from art galleries to restrooms. Moreover, the people of Japan are among the friendliest in the world.
Thailand
Thailand is a tourist haven known for its gorgeous beaches, delectable cuisine, and warm people. The region is famous for weekend getaways and gap years. It has a bustling rainforest, temples, gorgeous beaches, and a magnificent metropolis. It features many delectable meals and is affordable and easily accessible. There are so many enjoyable activities available nationwide.
New Zealand
Southwest of the Pacific Ocean is where the island nation of New Zealand is situated. It is the sixth-largest island nation by land size and boasts lovely scenery and vibrant towns and cities. For first-time solo travelers, New Zealand, the second-most calm country in the world, is a fantastic option. Driving or taking one of the frequently practical and reasonably priced buses or trains are equally feasible solutions for long-distance travel. Numerous magnificent fjords and waterfalls, the fascinating Waitomo Glowworm Caves, the ascent of Franz Josef Glacier, and other attractions draw visitors worldwide.
Iceland
Iceland is one of the safest places in the world, so alone travelers may unwind. Iceland is a mainly frozen Nordic island. Iceland is a small, tightly-knit nation where everyone knows one another and is eager to help travelers wherever they go. Nature enthusiasts will be delighted by the opportunity to experience black sand beaches, breathtaking fjords, active volcanoes, and even the possibility of sleeping under the Northern Lights.
Netherland
The Netherlands is one of the best destinations for solo travelers, regardless of age, ethnicity, gender, or sexual orientation. The people live a liberal style of life, and the atmosphere is very relaxed. Everyone is welcome here. Although they can be speedy and inexpensive, buses and trains are less feasible for traveling to off-the-beaten-path areas. It's also the simplest method to find all of these stunning sights. Navigation is relatively easy, and the locals are incredibly friendly and helpful.