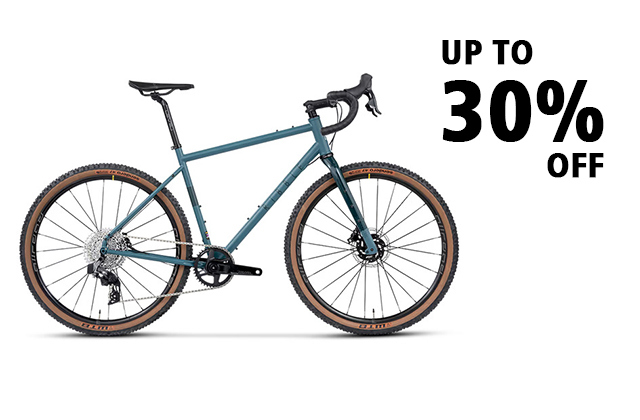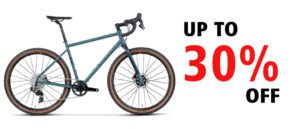 Prepare for a summer filled with cycling adventures with Ribble's historic bike sale event! Get up to 30% off various bikes from different riding genres, suitable for both beginning and experienced bikers. For your consideration, the following Ribble cycle deals:
Ribble Gravel 725 – Enthusiast – Small
Riders constantly seek to push boundaries and advance off-road exploration as gravel riding develops. The Gravel 725 is built to deliver a swift, cozy, and secure ride on any surface. An off-road focused specification with wide single-ring gearing from an SRAM Rival 1x groupset and Mavic Allroad wheels wrapped in Halo GXC gravel tyres is built around our trail-taming Reynolds steel frame. These features give predictable traction and control over varied terrain. Choose a gravel-specific finishing kit with flared handlebars for the comfort and control you need to take your rides off-piste in quest of the greatest gravel experiences.
£1,999.00
Was £2,399.00
Save £400.00
The most recent version of the highly acclaimed and test-winning R872 (winner of Cycling Weekly and Cycling Plus 'Best on Test' Awards). The adaptable "sportive" design produces a bike suitable for long-century rides, quick commutes, or novices seeking to dangle a toe in the water of road racing.
£1,199.00
Was £1,299.00
Save £100.00
Thanks to its in-house design and exceptional handcrafting from carbon, the swift, light, and incredibly agile R872 offers the perfect blend of performance and comfort. Due to its lightweight ride characteristics, it soars up hills and flies through flat ground.
£999.00
Was £1,099.00
Save £100.00
Ribble Endurace AL Disc – Sport
The Endurance AL lends itself well to fast-paced, short, or long rides. It is light, agile, and comfortable. Aspiring racers, weekend warriors, and daily commuters can all enjoy the thrilling ride sensation that can only be obtained with a premium alloy road bike.
£999.00
Was £1,099.00
Save £100.00
Ribble Endurance SL – Enthusiast
With Shimano's Ultegra 2×11 speed gear system, smooth-rolling and light LEVEL DB56 Sport carbon wheels wrapped in Continental Grand Prix tyres, and an ergonomic LEVEL 5 carbon integrated frame, this Enthusiast edition strikes the ideal balance between speed, comfort, and efficiency.
£2,499.00
Was £2,999.00
Save £500.00
The revolutionary Ribble CGR SL is the pinnacle of ruggedness, high performance, and versatility. You may travel everywhere with the CGR SL series, including the highest mountain passes, far-off trails, or your most creative everyday commute.
£2,299.00
Was £2,499.00
Save £200.00
Ribble HT AL – Enthusiast
The HT AL is a hardtail made entirely of aluminum that is meant to do it all, including rail berms, hit jumps, and soar through flowy singletrack.
£1,199.00
Was £1,599.00
Save £400.00
The HT AL is a no-nonsense hardcore hardtail that challenges you to surpass what you previously believed was possible on an aluminum hardtail. It is completely equipped with an SRAM SX Eagle 1×12 speed drivetrain with single-ring simplicity, lightning-fast shifts, and tough, dependable Rockshox Recon RL forks to take the blows. A contemporary hardcore hardtail that you can ride anywhere with smooth-rolling LEVEL 35 wheels mounted with legendary Maxxis Minion tyres and a trail-ready finishing kit.
£999.00
Was £1,299.00
Save £300.00
Ribble Gravel SL – Enthusiast
Take your adrenaline-fueled adventures to new heights with a gravel-optimized spec that features SRAM's Rival 1×11 speed drivetrain's single-ring simplicity and off-road gearing, sturdy Mavic Allroad Disc 650b wheels wrapped in traction-enhancing Halo GXC Gravel 650bx47mm tyres, and the gravel-inspired ergonomics of LEVEL gravel riser handlebars with flared drops to improve stability and control when tearing.
£2,499.00
Was £2,799.00
Save £300.00