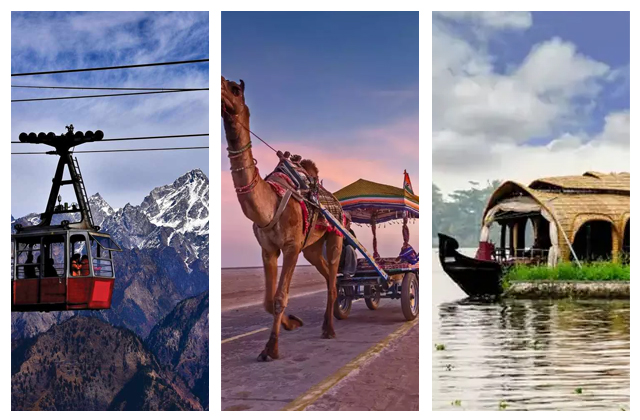 There are multiple chances for travelers in January. You can arrange a quick getaway to several locations in India with the upcoming long weekend surrounding Republic Day in 2023.
Republic Day (January 26) is on a Thursday this year. You can plan a four-day trip to a mountain or a beach resort if you take Friday off. To save you time, we have selected seven hot sites for you.
Top 7 Places you Can Visit in India over the Long Weekend
Auli, Uttarakhand
Auli is the place to go if you effortlessly navigate the chilly wave and want to see snowfall. It is also perfect for thrill-seekers who want to use skiing to explore the hill station's snowy surroundings.
You can photograph the breathtaking scenery of the Nandan Devi range while on vacation here. Some nearby tourist attractions are Trishul Peak, Chenab Lake, Kwani Bugyal, Joshimath, and Rudraprayag.
Kutch, Gujarat
If you want to see a brilliant, blazing sun and are sick of North India's cold wave, Kutch is the place to go. The city is most festive during this period, making it the ideal time to visit.
You can tour the White Desert, museum, Aina Mahal, Darbargadh, and Wildlife Sanctuary in addition to the festival's bustling shops and delectable cuisines.
Munnar-Alleppey, Kerala
Plan your vacation in Kerala if you want to keep it a mix of beach and hill station. Plan trips to the hill station Munnar and the seaside resort Alleppey. The two topics can be covered in four days.
You can set aside a day to take a houseboat tour of Kerala's backwaters. In addition to that, you can visit Mattupetty Dam, Alappuzha Lighthouse, and the tea farms in Munnar.
Puri, Odisha
Jagannath Temple makes Puri a fascinating location for travelers and mythology fans. Its building is the subject of many legends and is one of the most significant locations among the Char Dham sites.
Konark Beach, Chilika Wildlife Sanctuary, Puri Beach, and Chilka Lake are some additional locations in Puri. You can go fishing, sailing, or bird watching, among other things.
Dawki-Shillong, Meghalaya
Meghalaya's capital is Shillong, while Dawki is located close by. You can see nature at its most beautiful there. You will be able to forget about the concrete jungles of large cities thanks to the captivating scenery created by fluttering leaves, natural bridges, and cascading rivers.
Cherrapunji, Elephant Falls, Dawki Umngot River, Barapani, Shillong Peak, and Nohkalikai Falls are among the nearby tourist attractions.
Jaisalmer, Rajasthan
Compared to other regions of North India and some sections of Rajasthan, Jaisalmer is still warmer in January. It is renowned for its golden dunes and impressively designed forts.
The Jaisalmer Fort is the city's top attraction and a must-see location. You can also include Salam Singh Ki Haweli, Patwon Ki Haweli, and Gadisagar Lake in your itinerary. To enjoy your trip more, indulge in desert and camel safaris.
Darjeeling, West Bengal
In West Bengal, there is a charming hill town called Darjeeling. The area's luxuriant vegetation, tea estates, and Buddhist monasteries draw visitors worldwide. January is the most significant time to visit the hill station and explore its surroundings.