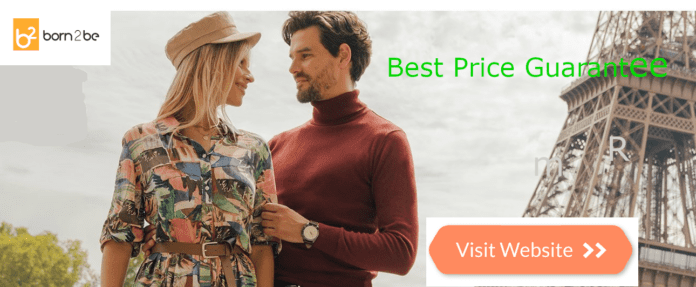 Born2Be: Purchase Appealing Dresses Online For Yourself
Get ready for a fun fashion journey! We're going to explore different clothes that are stylish, comfy, and won't cost too much. Whether you like classic denim, cosy knitwear, or cool leather, we've got something for you. Let's explore the fashion that's easy on your wallet and makes you look great!
Total Denim: Elevate Your Wardrobe with These Must-Have Denim Essentials
In the world of fashion, certain styles never truly go out of vogue. Denim, with its timeless appeal and versatility, is undoubtedly one of them. From casual outings to semi-formal events, denim pieces effortlessly blend comfort and style. In this section, we'll explore three essential denim products available at Born2Be that will not only elevate your wardrobe but also prove to be cost-effective choices.
1. Blue Jacket
Price: 139.99 Lei (Regular) and 118.99 Lei with code: EXTRA
Price with Born2be Club: -26%*
The classic blue jacket has been a symbol of cool and casual elegance for generations. This versatile piece effortlessly transitions from a laid-back day out to a stylish evening event. Crafted with attention to detail, this jacket is not just about style but also comfort. The Born2be Club discount sweetens the deal, making it an affordable addition to your wardrobe.
2. Navy Blue Shoes
Price: 149.99 Lei (Regular) and 127.49 Lei with code: EXTRA
Price with Born2be Club: -20%*
Footwear can make or break an outfit, and these navy blue shoes are here to make it unforgettable. Designed with a keen eye for fashion and comfort, they provide the perfect finishing touch to any denim ensemble. The extra discount with the Born2be Club membership ensures that you get more than just style; you get incredible value for your money.
3. Navy Blue Dress
Price: 59.99 Lei (Regular) and 50.99 Lei with code: EXTRA
Price with Born2be Club: -43%
Sometimes, simplicity speaks volumes, and that's precisely what this navy blue dress does. With its understated elegance, this dress is ideal for various occasions, from a casual brunch with friends to a night out on the town. The EXTRA code brings affordability into the equation, allowing you to enjoy timeless elegance without breaking the bank.
A foundation of fashion that is constantly changing and adjusting to current trends is denim. The Blue Jacket, Navy Blue Shoes, and Navy Blue Dress are three of the thousands of items available on Born2Be that demonstrate how denim expertly combines fashion, comfort, and affordability. Don't pass up the chance to add these classic pieces to your wardrobe; with the Born2be Club discounts, you can do so without breaking the bank. Keep checking Born2Be for more fascinating insights into denim fashion to come!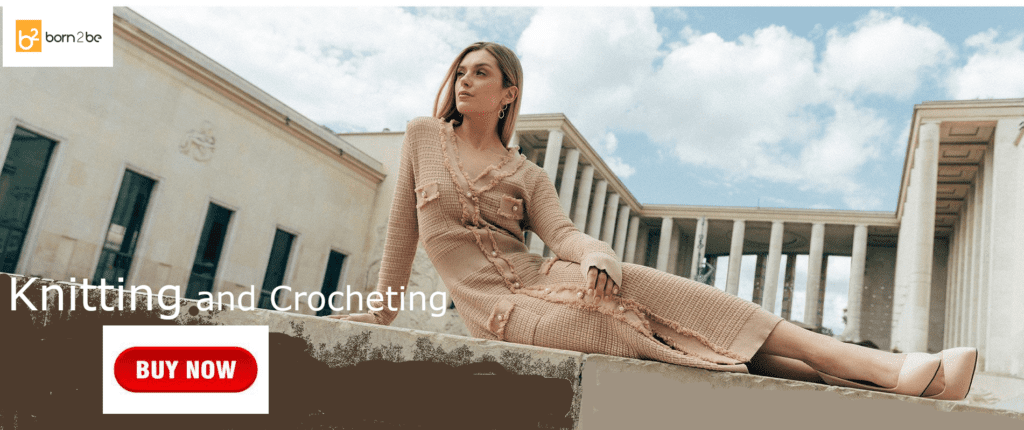 Knitwear & Crocheting: Embrace Comfortable Elegance with These Stunning Knitting Dresses
Nothing is more calming than wearing a warm and fashionable knitting dress as the seasons begin to change. Knitwear is an essential part of every wardrobe because of the skill with which it expertly combines cosy comfort and stylish fashion. Here, we'll take a closer look at three exquisite knit dresses from Born2Be that not only radiate elegance but also provide unbeatable value.
1. Beige Suit
Price: 124.99 Lei (Regular) and 106.24 Lei with code: EXTRA
Price with Born2be Club: -47%
The Beige Suit knitting dress is a testament to timeless sophistication. Its understated colour palette exudes grace, while the intricate knit patterns add a touch of uniqueness. Perfect for both formal and casual occasions, this dress complements your style effortlessly. With the EXTRA code and Born2be Club discount, it's a steal that will keep you cosy and stylish.
2. All Black Dress
Price: 129.99 Lei (Regular) and 110.49 Lei with code: EXTRA
Price with Born2be Club: -26%*
The "All Black" knitting dress is a classic choice that never goes out of style. Its versatility knows no bounds, allowing you to dress it up or down as the occasion demands. The pitch-black hue exudes an air of understated elegance, while the knitting patterns add depth to your look. With the Born2be Club membership and the EXTRA code, it's an affordable luxury you can't resist.
3. Complete Grey
Price: 169.99 Lei (Regular) and 135.99 Lei with code: EXTRA
Price with Born2be Club: -20%
"Complete Gray" is the epitome of versatile fashion. This ensemble effortlessly combines sophistication with everyday comfort. Crafted to perfection, it's a timeless addition to your wardrobe. Stay tuned for the exclusive Born2be Club price, making it a budget-friendly choice without compromising on style.
Knit dresses are the perfect example of how warmth and style can coexist. The knitting dresses in this collection, which are shown in Beige Suit, All Black, and Complete Grey, are outstanding examples of the elegance and adaptability of knitwear. These dresses are intended to make a fashion statement as well as to keep you warm. You can indulge in the luxury of these knitting dresses without going over your spending limit thanks to Born2be Club discounts. 
Leather Revival: Unleash Your Inner Rebel with These Leather Essentials
Leather has always been synonymous with rebellion and style, and its timeless appeal continues to captivate fashion enthusiasts. In this "Leather Revival" section, we'll dive into a collection of leather fashion essentials that promise to add a touch of edginess to your wardrobe. These products not only exude attitude but also come with irresistible discounts, thanks to the Born2be Club.
1. Black Coat
Price: 319.99 Lei (Regular) and 255.99 Lei with code: EXTRA
Price with Born2be Club: -20%
The Black Coat is a true masterpiece that defines elegance with a dash of mystery. Crafted from high-quality leather, it offers both warmth and style. Its sleek design and tailored fit make it an ideal choice for any occasion. With the EXTRA code and Born2be Club discount, you can own this piece of luxury without the hefty price tag.
2. Black Ankle Boots
Price: 199.99 Lei (Regular) and 159.99 Lei
with code: EXTRA
Price with Born2be Club: -20%
Your footwear speaks volumes about your personality, and these Black Ankle Boots are here to make a powerful statement. Designed for comfort and style, they seamlessly complement various outfits. The Born2be Club membership ensures that you not only walk with confidence but also save significantly on these bold boots.
3. Black Jacket – Rebel with Flair
Price: 109.99 Lei (Regular) and 129.99 Lei
with code: EXTRA
Price with Born2be Club: -28%
The Black Jacket is a true symbol of rebellion with flair. Its timeless design and leather craftsmanship make it a versatile addition to your wardrobe. Whether you're going for a casual look or want to edge up a formal outfit, this jacket has you covered. The EXTRA code and Born2be Club discount make it an irresistible choice for the fashion-forward.
4. Black Pants
Price: 159.99 Lei (Regular) and 189.99 Lei with code: EXTRA
Price with Born2be Club: -33%
Black Pants are a wardrobe essential, and these leather ones take chick to a whole new level. The smooth texture and impeccable fit make them a commanding choice. Paired with the right top, they can transform your look effortlessly. And with the Born2be Club membership, you can enjoy this versatile piece at an unbeatable price.
Fashion made of leather is a classic style that will always be appealing. Numerous items, including The Black Coat, Black Ankle Boots, Black Jacket, and Black Pants, are part of Born2Be's "Leather Revival" collection, which redefines style and attitude. You can join the leather revolution without going over your budget with Born2be Club discounts. Watch for more fascinating leather fashion insights in the sections that follow!
Final Words
We have looked at the timeless appeal of denim, comfortable knit dresses, and edgy leather essentials during this fashion journey. Style meets affordability with Born2be Club discounts and the EXTRA code. Use fashion as a canvas to express yourself boldly and affordably. Watch this space for more analysis of the constantly changing world of fashion.