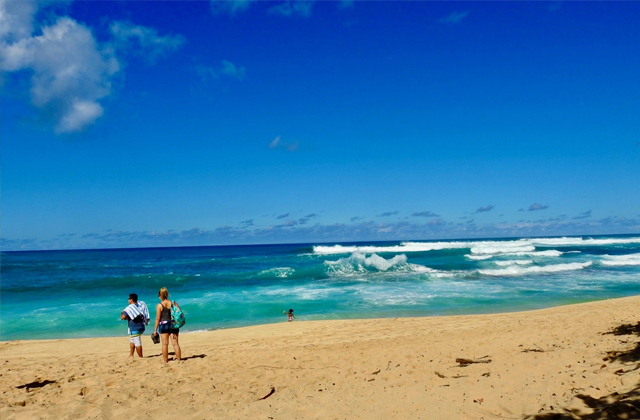 Tourists and locals alike like visiting Oahu's North Shore, which is well-known for its gorgeous beaches and laid-back vibe. However, choosing which beaches to visit during your vacation might be challenging, given the variety of alternatives. We've created a list of the 11 best beaches in oahu.  Every tourist will find something to enjoy in this book, from popular surf locations to undiscovered gems. So get your sunscreen and get ready to tour some of the world's most stunning beaches.
Sunset Beach:

Famous for its massive waves during the winter months, Sunset Beach attracts professional surfers worldwide. During the summer, the water is calmer and more suitable for swimming.

Waimea Bay:

Known for its impressive waves and hosting the world-renowned "Eddie Aikau" big wave surfing competition, Waimea Bay is a beautiful beach with thrilling surf and calm swimming areas.

Pipeline:

Considered one of the most iconic surf spots globally, Pipeline attracts experienced surfers due to its powerful and dangerous waves. It's also a great beach for spectating during the winter months.

Three Tables Beach:

Located next to Shark's Cove, Three Tables Beach offers excellent snorkeling opportunities. It gets its name from the three reef formations that resemble tables when the tide is low.

Banzai Pipeline Beach Park:

This beach is home to the famous Pipeline surf break. It's a popular spot for watching surfers tackle massive waves, especially during winter.

Sharks Cove:

Although not a traditional sandy beach, Sharks Cove is a popular snorkeling and diving spot. The underwater ecosystem is teeming with colorful marine life, making it a favorite among snorkelers and scuba divers.

Ehukai Beach Park:

Another name for the Banzai Pipeline Beach Park, Ehukai Beach Park is known for its incredible surf breaks and thrilling waves. It's a great place to watch surfers in action.

Laniakea Beach:

Also known as "Turtle Beach," Laniakea is famous for its resident green sea turtles. Visitors often gather here to glimpse these magnificent creatures basking on the sand.

Chun's Reef Beach:

This beach offers a more laid-back atmosphere and is perfect for strolls along the shoreline. It's also a popular spot for sunbathing and picnicking.

Pupukea Beach Park:

This beach park is home to Shark's Cove and Three Tables Beach. It's a great place to spend the day, with ample snorkeling opportunities, picnic areas, and beautiful scenery.

Ke Iki Beach:

A peaceful and less crowded beach, Ke Iki offers a tranquil escape with its picturesque shoreline and pristine waters. It's an ideal spot for sunbathing and enjoying a peaceful day by the sea.
Final Words
Remember to respect the local environment, obey any posted signs, and practice ocean safety when visiting the north shore hawaii beaches. Enjoy the breathtaking beauty and thrilling surf culture that make the North Shore of Oahu a true paradise for beach lovers!