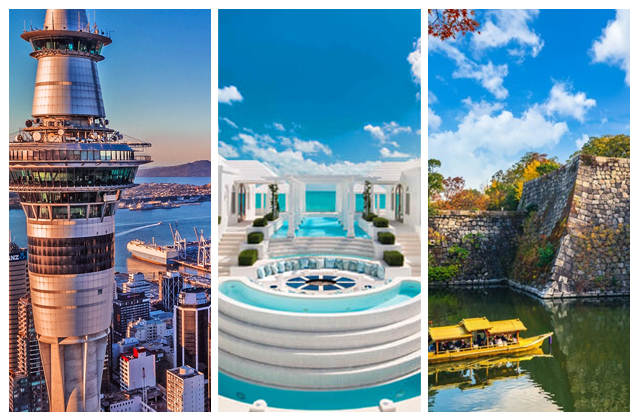 The highlands and beaches remained favorites for family holidays and single and corporate travelers, friend groups, and couples. Following Covid-19, 2022 saw a huge spike in travel as many people rushed to visit their favorite areas. The slogan to revive, relax, and experience the pinnacle of individualized luxury stays in the lap of nature has come a long way, with more tourists visiting these areas throughout the season. However, selecting just one beautiful location can be challenging when so many wonderful possibilities exist. Below is a list of the top ten tourist spots for 2023 for you.
Auckland, New Zealand
Auckland, the largest city in New Zealand, is the ideal location to discover the nation's people, food, and outdoor activities. Numerous other cultural and athletic events, like the Auckland Arts Festival and the Auckland Marathon, are held in the city. Additionally, more hotels are opening up all across the city, making it simpler for tourists to discover the ideal lodging. Additionally, getting to and from Auckland will be simpler for travelers thanks to improved flight connectivity.
Turks and Caicos
The Turks and Caicos Islands are the best vacation spot for beach enthusiasts. This Caribbean paradise is a favorite travel destination for 2023 because of its crystal blue waters and white sand beaches. The Grace Bay Club and the Palms Turks and Caicos are only two of the richest resorts in the world found on these islands. These hotels have top-notch facilities like spas, swimming pools, and private beaches. Plus, you can get away from it all because they are situated on some of the Caribbean's most isolated islands. Additionally, cruise lines are improving what they offer in Turks & Caicos.
Western Japan
It is a fantastic location for tourists seeking a distinctive experience. Numerous gorgeous beaches, quaint towns, and historic locations are located nearby. The Seto Inland Sea will be available for expedition cruises in 2023. Additionally, many fresh activities, like sake tastings and traditional pottery lessons, are arising nearby.
Central California Coast, USA
For wine enthusiasts, the Central California Coast is paradise. The region is home to numerous wineries, tasting rooms, and outstanding eateries. One of the new wine country lodging options is available to tourists. In addition, the region is the ideal spot to unwind because it includes several beaches and outdoor activities.
Egypt
Egypt is a great destination if you wish to have a different kind of holiday. Many monuments, museums, and archaeological sites are there to visit. Travelers can visit the country's historical landmarks while staying at a waterfront resort. In addition, travelers can take a Nile cruise to view the nation's breathtaking landscapes.
Galilee, Israel
Galilee is a fantastic destination for those looking for a unique experience. Historic sites, vineyards, and beautiful boutique hotels are also nearby. Visitors can stay in one of the new hotels while taking in the scenery. Additionally, the better connection will make it simpler for visitors to travel to and from Galilee.
Kenya
Kenya should be a destination for anyone looking for something unique. It is famous for its many urban destinations, tropical islands, and safari resorts. You can visit the stunning landscapes of the nation and stay in a brand-new luxury lodge. Visitors can also go on a safari to see the animals of the nation.
Loire Valley, France
The Loire Valley is a great destination for tourists looking for a unique experience. Historic chateaux, vineyards, and eateries are also nearby. People can travel to various breathtaking landscapes, lodge in a brand-new hotel, ride on a luxurious train, and explore the region's historic landmarks.
Melides, Portugal
There are other lesser-known beaches, stylish lodgings, and eateries in the region. Tourists who stay in one of the new hotels can explore the region's landscapes. In addition, they may go on a boat ride to view the shoreline.
Sharjah, United Arab Emirates
The region is famous for its historical exhibitions of art and architecture and its atmospheric new hotels and eateries. In addition, the breathtaking desert view can be explored on a desert safari.