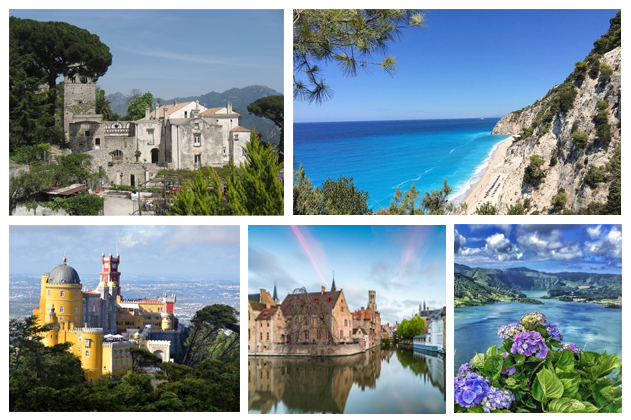 Europe is packed with beautiful phrases that "an embarrassment of riches" could have been coined to describe them. The continent is home to a wide variety of vibrant small cities, stately chateaux, Roman remains, ecclesiastical structures, medieval castles, shimmering lagoons, and secluded beaches, some of which are located close to one another.
It's easy to find (or seek out) an attractive location, but because there are so many in Europe, narrowing down the list of the most stunning sites can be challenging. So if you're looking for a location with countless picture opportunities, keep reading for some stunning suggestions.
Top 10 Most Beautiful Places in Europe
Villa Rufolo, Ravello, Italy
Ravello continues to inspire travel fantasies, music, and art unlike any other of the enticing Amalfi Coast towns to explore, and Villa Rufolo plays a significant part in that. This opulent maritime home hypnotizes guests with its cliff-clinging gardens, a distinctive fusion of architectural styles, and Tyrrhenian Sea views.
Egremni Beach, Lefkada, Greece
Egremni Beach is a remote paradise with some of the clearest seas on the planet. It is so beautiful because of the contrast between the turquoise water and the stark white sand. Despite being difficult to get to (i.e., requiring a hike down 350 steep stairs), this Ionian idyll's stunning beauty could only partially keep it off the tourist radar.
Pena Palace, Sintra, Portugal
Pena Palace, a 19th-century castle perched atop a rocky mountain in the Sintra Mountains, is a popular destination for tourists who come to take pictures of its brightly colored facade and enjoy the expansive vistas. A 200-hectare park nearby has walking routes shaded by exotic trees, lakes, and ponds, giving the impression of a secluded garden.
Our Lady of the Rocks, Montenegro
Numerous scenic attractions along the route circle the Bay of Kotor. Still, none is more worth stopping to admire than Our Lady of the Rocks, a rock-built artificial island off the coast of Perast that a 17th-century Roman Catholic church dominates.
Bruges, Belgium
On rare occasions, a location is so stunning that putting your camera down briefly would mean missing a photo opportunity. Bruges fits that description. The picturesque city of West Flanders, Bruges, resembles a scene from a movie thanks to its canals, cobblestone streets, and notable medieval structures, such as the Belfry of Bruges.
Abbaye Notre-Dame de Senanque, Gordes, France
Provence's Luberon region is well known for its enticing lavender fields. Outside of Abbaye Notre-Dame de Sénanque, a magnificent example of a Cistercian monastery that offers guided tours of the church and cloisters, rows of this purple plant scent the air and produce a spectacular visual.
Sao Miguel, Azores
So Miguel, the main volcanic island of the Azores archipelago, an autonomous region of Portugal in the middle of the Atlantic Ocean, is known as the "Hawaii of Europe." It is home to breathtaking beaches and valleys with lush vegetation, dramatic peaks, crater lakes, and surreal steam-emitting fumaroles.
Keukenhof, Lisse, Netherlands
The 32 hectares of vibrant flower bulbs at Keukenhof, about 30 minutes outside of Amsterdam and regarded as the world's most beautiful springtime garden, burst into life between late March and mid-May. These flowers include tulips, hyacinths, daffodils, orchids, roses, carnations, irises, and lilies.
Plitvice Lakes National Park, Croatia
Travelers are led to numerous picturesque locations, including Croatia's renowned Plitvice Lakes National Park, searching for the world's bluest water. Almost a million people visit this natural beauty annually, midway between Zagreb and Zadar. They are awed by its crystal-clear lakes, cascading waterfalls, caverns, and lush forests.
Lapland, Finland
Lapland, a real-life winter wonderland with snow-covered terrain, is traversed by the Arctic Circle. Yet, beyond the seemingly Elsa-touched surroundings, what makes the sky so beautiful is what's up there. Visitors to this rocky, remote area of Finland can catch a glimpse of the colorful northern lights between September and March.