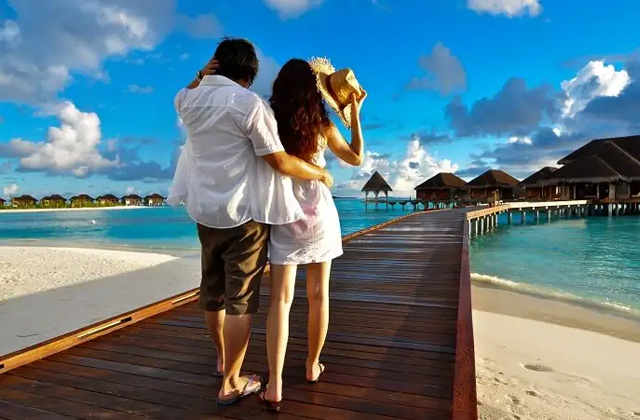 When it comes to romantic getaways, nothing quite compares to the allure of an island escape. With stunning beaches, crystal-clear waters, and a relaxed atmosphere, it's no wonder that couples flock to islands worldwide to spend quality time together. So if you're planning a romantic vacation, here are the top five island vacation packages that are perfect for couples.
Atlantis Bahamas: Located on the paradise island of Nassau, Atlantis Bahamas is a world-class resort that offers everything you need for a romantic getaway. Atlantis Bahamas has everything from cozy accommodations to gourmet dining and spa services. Couples can enjoy swimming with the dolphins, snorkeling in the crystal-clear waters, and lounging on the pristine beaches.
Greek Islands: With more than 6,000 islands, Greece offers endless romantic destinations. From the stunning cliffs of Santorini to the secluded beaches of Skopelos, there's something for every couple. So whether you want to explore ancient ruins or simply relax in the sun, the Greek islands are a perfect choice.
Caribbean Islands: The Caribbean is the most beautiful islands in the world, making it the ideal destination for honeymooners. There is an abundance of natural beauty, from the turquoise waters of the Bahamas to the lush rainforests of St. Lucia. The ideal recipe for a romantic getaway includes five-star resorts, fine dining, and an abundance of activities.
Bora Bora: Known for its overwater bungalows and stunning turquoise lagoons, Bora Bora is a dream destination for couples. This French Polynesian island is the perfect place to unwind and relax, with its laid-back atmosphere and breathtaking scenery. Couples can enjoy snorkeling, paddleboarding, and just enjoying the stunning views.
Maldives: The Maldives is a collection of islands in the Indian Ocean that offer unparalleled beauty and luxury. With its white sand beaches, crystal-clear waters, and world-class resorts, it's no wonder that the Maldives is a popular destination for couples. So whether you want to snorkel with the manta rays or simply relax on the beach, the Maldives is a perfect choice for a romantic vacation.
In Conclusion
Many island vacation packages are perfect for couples looking to spend quality time together. Whether you choose the Atlantis Bahamas, the Greek, the Caribbean, Bora Bora, or the Maldives, you will surely have an unforgettable experience. So pack your bags, grab your partner, and prepare for the romantic vacation of a lifetime.