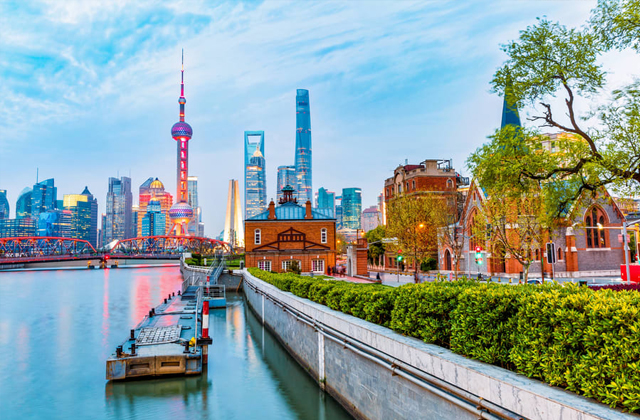 Shanghai is a bustling metropolis that attracts millions of visitors every year. Shanghai is renowned for its extensive history, thriving culture, and cutting-edge skyline. However, it can be difficult for a first-time visitor to choose from the city's seemingly limitless attractions. So, we've compiled a thorough list of the top ten things to see and do in Shanghai. This list includes activities like visiting historic temples and taking in cityscape panoramas. So, whether you're a history buff, foodie, or adventure seeker, Shanghai has something for you. Let's dive in and discover the things to do in shanghai for every traveler.
10 Incredible Places to Visit in Shanghai 
Shanghai is one of the most populous places to visit in china in the world and is known for its towering skyscrapers, delicious cuisine, and vibrant nightlife. Here are some fantastic locations you shouldn't miss if you're considering visiting this lively city:
The Bund:

This iconic waterfront promenade is a must-visit when exploring Shanghai. Lined with historic buildings from the 1920s and 1930s, the Bund offers stunning views of the Shanghai skyline across the Huangpu River.

Yu Garden:

This traditional Chinese garden is a peaceful oasis in the city's heart. Built-in the 16th century, the garden features beautiful pavilions, rock formations, and ponds.

Shanghai Tower:

The Shanghai Tower, the second-tallest structure in the world at 632 meters, is the tallest structure in China. The 118th and 119th levels of the skyscraper provide observation decks with magnificent city views.

Oriental Pearl Tower:

This towering tower is one of Shanghai's most recognizable features. For expansive views of the city and the Huangpu River, visitors can take a lift to the top of the building.

Jing'an Temple:

This historic temple dates back to the 3rd century and is one of Shanghai's most important Buddhist temples. The temple features beautiful architecture and intricate carvings.

Shanghai Museum:

This world-class museum is home to over 120,000 artifacts, including ancient Chinese pottery, jade, and bronze. The museum offers a fascinating glimpse into China's rich history and culture.

Tianzifang:

This charming neighborhood in the French Concession is home to narrow alleyways lined with small shops, cafes, and galleries. It's the perfect place to wander and explore on a lazy afternoon.

Nanjing Road:

With more than a million visitors per day, this busy shopping strip is among the busiest in the entire globe. Luxury shops, department stores, and street sellers selling anything from trinkets to street cuisine line the street.

Zhujiajiao Water Town:

This historic town is close to Shanghai and renowned for its charming canals and traditional buildings. Visitors can explore the town's winding lanes by boat while traveling around the canals.

Shanghai Disneyland:

This popular theme park is one of the best

places to visit

for families and Disney fans. The park features six themed lands, including Adventure Isle, Fantasyland, and Tomorrowland, and is home to thrilling rides and attractions.
Final Words
From historic temples to modern skyscrapers, Shanghai offers something for every traveler. So whether you're interested in culture, shopping, or just exploring the city's many attractions, you will have a memorable trip to this vibrant metropolis.