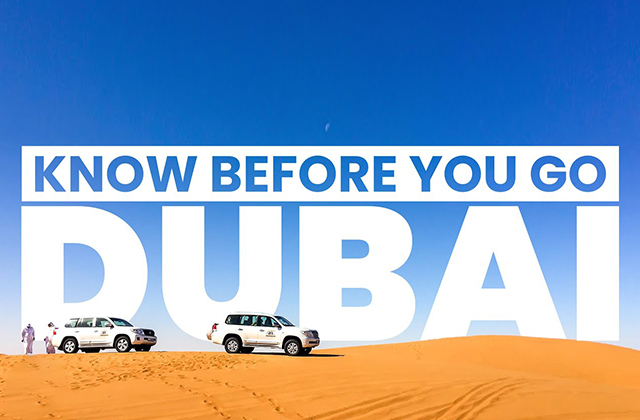 The tallest skyscraper in the world, Burj Khalifa, and the Burj Al Arab, the only seven-star hotel in the world, are located in Dubai, the most beautiful city in the UAE. Not only that, but Dubai is still growing to become one of the world's most attractively laid-out cities, renowned for its rich cultural diversity and well-attended fiestas. But Dubai is much more than just its luxury malls and sky-touching superstructures. So, here are some suggestions to make your trip to the Gulf city one you will always remember:
Top 10 Things Travelers Need To Know Before Visiting Dubai
Visit between October and April.
There are only two seasons in Dubai: hot and hotter. The winter season, which runs from October to April, brings clear skies and ideal beach weather to the city. Unfortunately, it's also the rainy season, but since showers usually only linger for a short time, keep that from affecting when you travel.
Look at flights six months ahead.
International airlines typically release their lowest seats six months before scheduled travel dates. This doesn't necessarily imply you should purchase your tickets months in advance, but it is a good idea to start looking at and comparing costs. You should purchase your tickets at least a month in advance.
Book your hotel months in advance.
You should make arrangements for a good place to stay, such as one of these IHG hotels in Dubai before you depart because Dubai is quickly becoming a sought-after vacation destination. The best months to visit Dubai are from October through April. Therefore, make your hotel reservation in Dubai at least two to three months in advance.
Show respect during Ramadan.
Respect the Muslims and their fasting customs if you go during the holy month of Ramadan, which falls in the ninth month of the 12-month Islamic calendar. This means that between sunrise and sunset, you are not permitted to drink, eat, or smoke in front of them.
Dress modestly.
Consider packing a more subdued wardrobe for your trip rather than something flashy and revealing. For example, men should never be seen without a shirt on, whereas extremely short, tight, or revealing clothes for women is deemed impolite. To respect Muslim culture and prevent unwanted attention, dress modestly.
Ask permission before taking pictures.
Unless you're taking a gorgeous photo in a well-known tourist destination, never take a picture of or with a stranger without asking permission. But you should never photograph a Muslim woman without her consent, and you shouldn't take pictures of any governmental structures, airports, military bases, etc.
Should you tip?
Although it's not truly expected, tipping is a prevalent practice in Dubai. In most restaurants, your bill will include a tip. While luggage carriers and grocery baggers frequently receive a little tip for their services, taxi drivers anticipate receiving something other than one.
Don't give your taxi driver an address.
Taxis are an excellent way to navigate the city because they are readily available and reasonably priced. Therefore, don't assume that your cab driver is familiar with every road and eatery in Dubai. However, giving them references to well-known city landmarks will help you get where you're going because they frequently need to learn the area as well as you believe they should.
Be careful where you consume alcohol.
Although it is legal to consume alcohol in Dubai, it is not permitted to do so in public or while operating a vehicle. Also, you need a permit to purchase alcohol for personal use, and you must do it from a licensed vendor. It's fine to buy beverages at a pub or restaurant; don't try to drive home after getting drunk.
Stay away from PDA.
In the UAE, public expressions of affection are highly offensive. For displaying PDAs, numerous tourists in Dubai have been arrested and imprisoned. Avoid touching hands or kissing your significant other in front of others to be on the safe side. Despite some strict rules, you should be bold in traveling to Dubai if you have the opportunity. It's a special place you should visit alone, with your partner, or with your entire family.