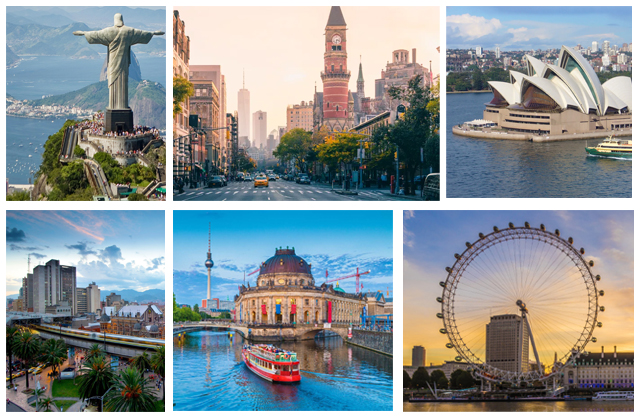 It is unnecessary to do what everyone else does on New Year's Eve. You can travel far away and discover a new country instead spending hours finding the ideal New Year's Eve dress or paying outrageous prices for tickets to a famous club. Choosing where to spend New Year's Eve is the challenging part, though. Check out the list of fantastic destinations we've selected for you.
Rio de Janeiro
Rio de Janeiro has the largest carnival in the world each year. Brazilians can create a fantastic party, and dance like no one is looking! The atmosphere at Copacabana Beach is electrifying because there are over 2 million visitors there each year.
A couple of Brazil's traditions are enjoyable to participate in as well. For example, for New Year's Eve, most people in Brazil wear white, following a custom derived from an African ritual and signifying peace.
It's also believed that you should go to the beach right after midnight and make seven wishes while jumping off seven waves.
London
The spectacular fireworks show over the Thames in London seems to become better and better every year. Joining a boat party on the River Thames is one of the best ways to enjoy the New Year in London. You'll have a front-row view of the fireworks this way.
There are parties in London for every type of individual, including ones with a prohibition-era theme from the 1940s, ones with a circus theme, ones with an Alcotraz cocktail experience, and many more fun ideas.
Berlin
The nightlife in Berlin is well-known throughout the world. Some of the world's most exclusive and mysterious clubs are located there. Many people have a "nightclub bucket list, " including places like KitKatClub and Berghein.
These locations are among the greatest for New Year's Eve celebrations and Berlin's 4,500 clubs and pubs. In addition, you may listen to every genre of music in Berlin, including techno, house, pop, and R&B.
One of the world's largest New Year's Eve open-air festivities is held near the Brandenburg Gate if you prefer some fresh air. Berlin is a fantastic city with odd neighborhoods, a rich past, and lots of beer gardens.
Medellin
In Medellin, Colombia, celebrations are held every single day. Reggaeton music and dancing never end! On New Year's Eve, it elevates its already vibrant nightlife to a new level.
The amazing events aren't just limited to December 31. These festivities extend for a few days after New Year's Eve.
When the clock strikes twelve, travel to one of Medelln's rooftop bars for a more laid-back atmosphere and watch the sky light up with fireworks.
Sydney
Sydney might be an excellent choice if flying to a remote island in the middle of the ocean sounds a little too challenging for you. It is the first big city to celebrate the New Year on the entire planet.
More than a million people travel to Sydney every year to see the spectacular fireworks display over Sydney Harbor. Watch as famous structures like the Sydney Opera House and Sydney Harbour Bridge reflect the lights. You can recover from a hangover on one of Sydney's renowned beaches with golden sand.
New York City
New York is a must-visit city if you are planning to travel. Eyes from all over the world shift to Times Square and the iconic Ball Drop as the hour approaches midnight. Take in the enthusiasm and eagerness of the many eager people to bid farewell to the old and hello to the new. The unity in these few minutes is beyond words!