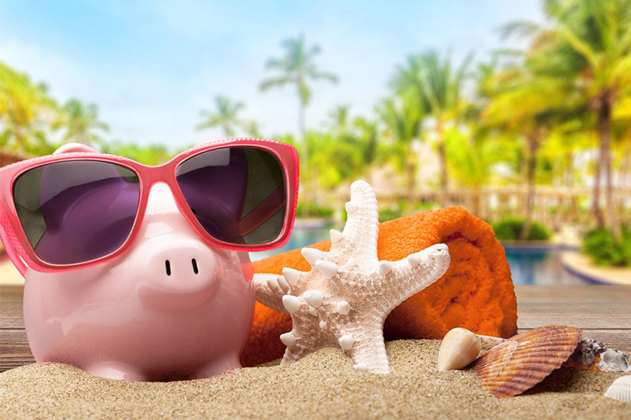 Are you looking for a sun-soaked vacation destination that won't put a huge dent in your wallet? Look no further than the Caribbean! From beautiful beaches to lush rainforest hikes, the Caribbean offers many experiences that won't break the bank. In this blog post, we'll take a look at the top five Caribbean islands you can visit without breaking the bank. From budget-friendly island hopping to the best local restaurants, you'll get the scoop on how to enjoy the Caribbean without spending too much. Ready to start planning your next tropical getaway? Let's dive in!
Puerto Rico
Puerto Rico is a top choice for travelers looking for a Caribbean paradise without breaking the bank. Located just 1,000 miles from Miami, Puerto Rico boasts beautiful beaches, vibrant culture, and delicious food. The island is known for its stunning views of the Atlantic Ocean, lush rainforests, and awe-inspiring mountains. With flights often starting at around $250, Puerto Rico offers an affordable destination for anyone looking to get away.
In Puerto Rico, visitors can explore Old San Juan, a historic area with cobblestone streets and colorful buildings. They can also participate in outdoor activities like surfing, kayaking, and hiking. And if they're feeling adventurous, they can even go rappelling in El Yunque, the only tropical rainforest in the U.S. National Park system.
The best part about visiting Puerto Rico is that it's incredibly affordable. Hotel rates are around $50 a night, while food is inexpensive. With so much to do and see on this beautiful Caribbean island, it's no surprise that Puerto Rico is one of the top-budget destinations in the Caribbean.
Dominican Republic
Located in the Caribbean, the Dominican Republic is a great destination for those looking to explore and get away from it all on a budget. With its beautiful beaches, lush green hills and rainforest, it's no wonder the Dominican Republic is one of the top spots for travelers who want to get the most bang for their buck.
With year-round tropical temperatures, you can enjoy the outdoors all year round. There are plenty of activities to participate in – from mountain biking to snorkeling and scuba diving. Explore old cities like Santo Domingo or relax on the beach with a pina colada.
If you're looking for something off the beaten path, check out Punta Cana, which offers a range of beaches, a marina, and the chance to explore unspoiled landscapes. If you're interested in exploring nature further, there are various national parks, such as Los Haitises National Park and The Jaragua National Park.
The Dominican Republic has something for everyone. From its vibrant culture to its natural beauty, it's an ideal destination if you're looking for a Caribbean getaway without breaking the bank.
Jamaica
With its stunning beaches, lush jungles, and lively culture, Jamaica is a must-visit destination in the Caribbean. The island is home to iconic attractions like Dunn's River Falls and the Blue Mountains, while the beaches along Negril's Seven Mile Strip provide a beautiful backdrop for sunbathing and swimming. In addition, the country's reggae music and unique cuisine make it a great choice for travelers looking to experience something new.
When finding flights to Jamaica, you'll have plenty of options. While the island can be a bit more expensive than some other Caribbean destinations, there are still plenty of great deals to be found. If you're willing to book in advance, you can often find flights from most major U.S. cities for under $400 round-trip. Additionally, airlines like JetBlue and Southwest frequently offer discounted fares for direct flights to Jamaica.
Jamaica has something to offer no matter what type of vacation experience you're looking for. With its array of activities, attractions, and vibrant culture, it's easy to see why it's one of the top Caribbean destinations. Plus, with so many great flight deals available, you can make it to this sunny island without breaking the bank!
Lucia
St. Lucia is a tropical paradise in the Caribbean with breathtaking beaches, lush rainforests, and an impressive mountain range. With an average temperature of 80°F (27°C) year-round, St. Lucia is the perfect destination for a beach getaway. St. Lucia offers plenty of outdoor activities to explore, from snorkeling and kayaking to hiking and waterfall tours.
In addition to its natural beauty, St. Lucia is home to some of the world's best restaurants and resorts. You'll have difficulty choosing where to dine with award-winning chefs preparing local dishes such as grilled fish, spicy stews, and tropical fruits. And for those looking for a luxurious stay, plenty of resorts offer villas, suites, and even private island villas.
For travelers on a budget, St. Lucia is surprisingly affordable. Round-trip flights from the US typically cost around $500–$700, depending on where you're flying from. Hotel rates can range from as little as $50 per night to several hundred dollars for luxury accommodation.
Bahamas
Located just off the coast of Florida, the Bahamas are one of the most popular Caribbean destinations for travelers. With its crystal clear turquoise waters, white sand beaches, and perfect climate, it is easy to see why this tropical paradise has become so popular.
The Bahamas have something for everyone, from adventure activities such as snorkeling, kayaking, and fishing to more laid-back experiences like beachfront dining and sightseeing. Plenty of luxurious resorts exist for those who want to indulge in the island's beauty.
If you're looking for a good deal, consider booking a package trip with an airline or hotel that includes discounted flights and stays. Many resorts offer all-inclusive packages that include meals, drinks, and activities, which can help you save even more money.
You'll never run out of things to do in the Bahamas. Whether you're interested in taking a stroll along the beach or exploring some of the country's cultural attractions, you'll find plenty of activities to enjoy. There are also world-class spas and golf courses for relaxing and unwinding.