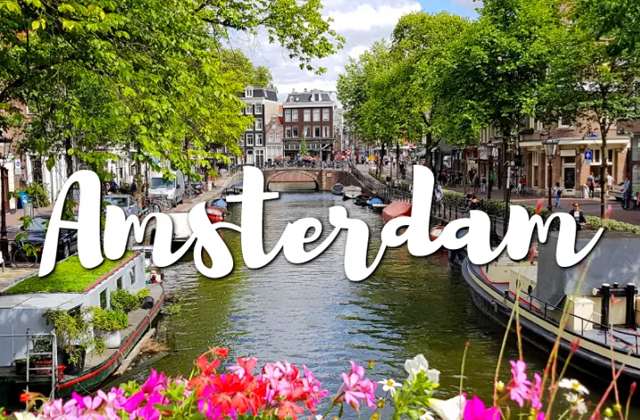 If you want to explore Amsterdam city, there are only basically two transportation options: bike and walking. And fortunately, the Dutch city provides a plethora of gorgeous strolls along verdant canals, past centuries-old churches, and tiny canal houses, as well as along narrow cobblestone alleyways, for those who enjoy walking (and/or biking).
Take a walking tour to get a true sense of the city's glimpse. They are the ideal option to connect with a knowledgeable local guide who can give their advice and insight while also learning about the history and culture of the area.
Here is a list of the top walking tours in Amsterdam to help you in deciding which ones to take!
Free Food Tour Amsterdam
During this free two-hour walking tour that highlights Amsterdam's cuisine, you may test Dutch gouda cheese, deliciously sweet and gooey stroopwafels, deep-fried savory bitterballen, and fresh herring. As you test regional specialties, the knowledgeable local guides provide a nice insight into the history and culture of Dutch cuisine.
Hungry Birds
This female-owned tour company has been providing hungry tourists with knowledge and food about Amsterdam for almost ten years. For 4.5 hours, "mother birds," as the locals call their tour guides, take foodies through this lovely Dutch metropolis while they nibble on a variety of delectable Dutch treats. Visitors to the tour have the opportunity to experience street food, typical Dutch fare like herring and stroopwafels, some non-Dutch goodies like Surinamese and Indonesian food, as well as food at an atmospheric old-fashioned food market.
HistoryWalks
Despite the fact that the country remain neutral during World War II, the Nazis invaded the Netherlands in 1939, just as the conflict was beginning. Their "World War II and the Holocaust in Amsterdam" trip, led by a retired history professor, takes visitors through the city while examining it through the prism of World War II. The three hours are fascinating, and the tour instructors are quite knowledgeable.
Ultimate Party Amsterdam
These wild pub crawl trips with a party vibe are joyful and entertaining. Join the Red Light District bar crawl, where the first 30 minutes of the tour are free unlimited vodka shots (and then at every stop you get another free shot of booze). Free entry to Amsterdam's largest nightclub is also included in the tour. This trip is an excellent way to learn about some cool party venues so you can return later and explore more independently. If you're traveling alone, it's a fantastic chance to make new friends.
Eating Europe
Eating Europe, which began in Italy ten years ago, is currently touring many significant European towns, including Amsterdam. The local guides are familiar with where and how to dine! The 3.5-hour walking tour stops at some of the coolest sites in the area, as well as street food and food markets to experience both authentic and inventive Dutch cuisine and some fantastic international cuisine. The experienced tour guides also provide an excellent background in Dutch cooking as well as the tradition and history of feasting in Amsterdam.
Final Words
Amsterdam is a wonderful city with something for every person and every budget. There are many more walking tours for everyone, whether you want to learn about the drug scene and the Red Light District or have more moderate tastes and are curious about the city's colorful past.